RE/Catholic News
Pupil Lead Whole School Prayers
Members of the Y6 Faith in Action group continue to take their turn planning
and leading Whole School Collective Worship.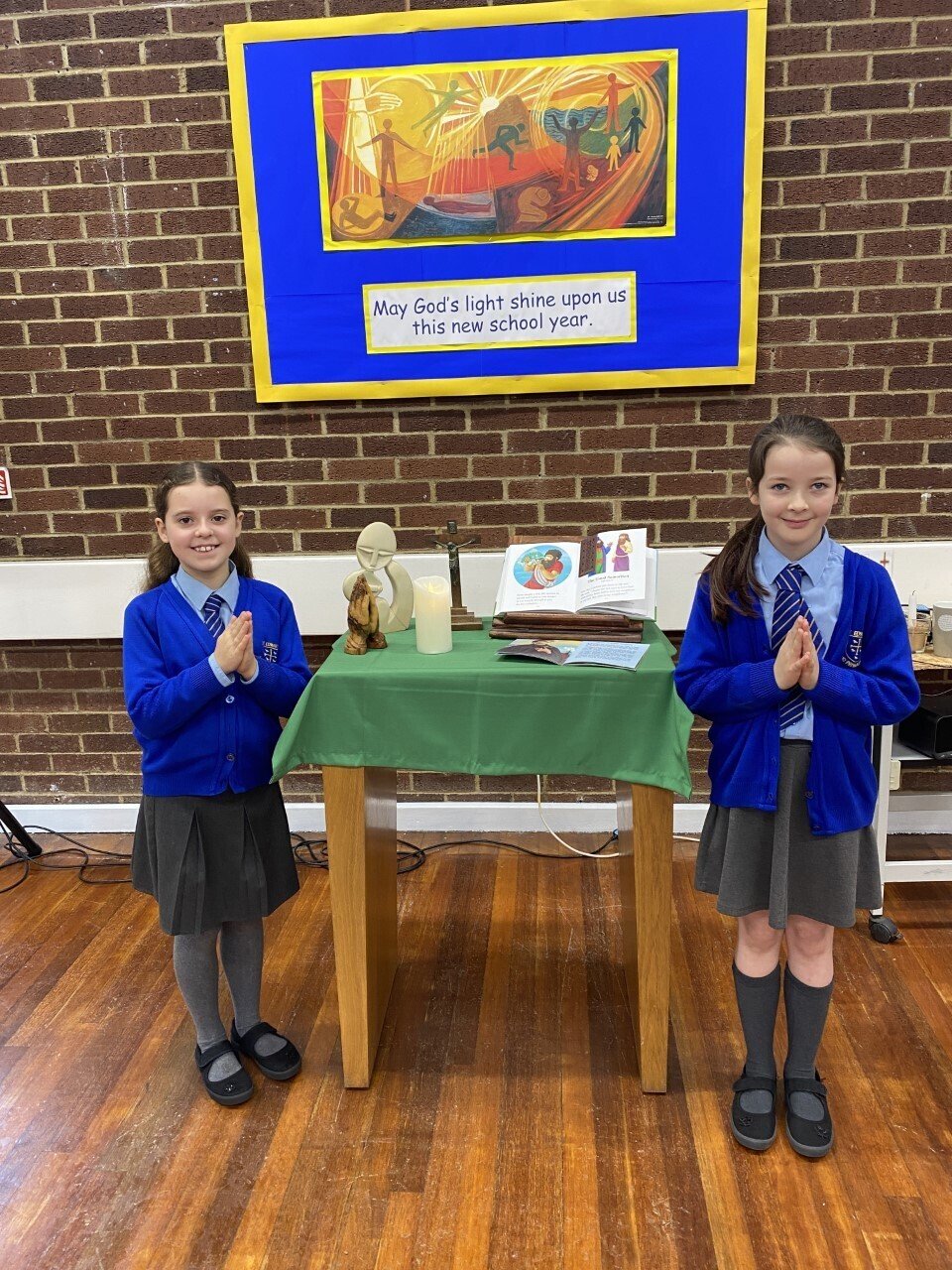 Apprentice Fundraising Oct 22-Jan 23
Once again, Y6 set up and ran their own businesses for 10 weeks
in order to raise money for charity. They raised almost £3000. Congratulations!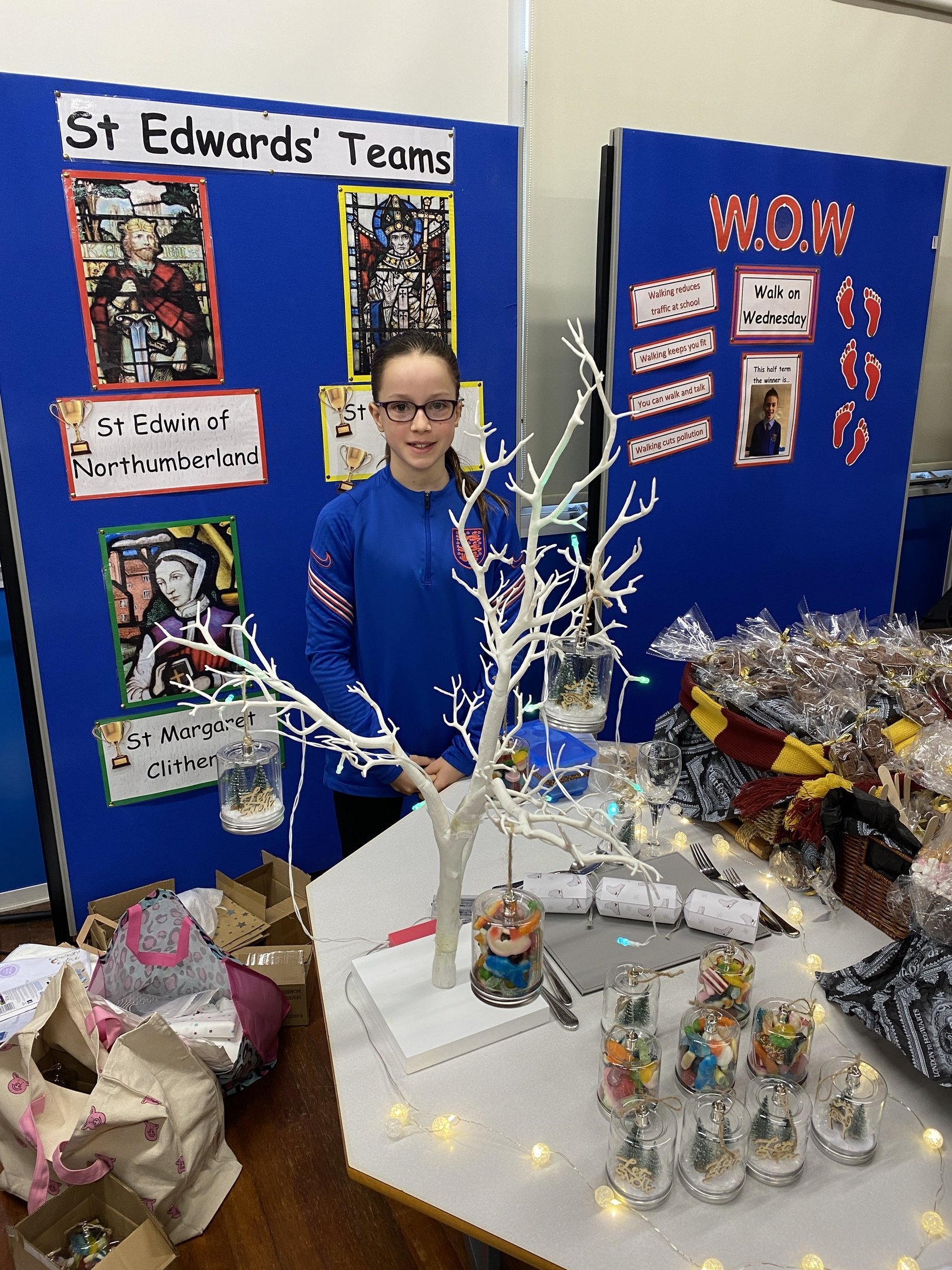 Mini Vinnie Cake Stall October 2022
The Mini Vinnies organised and ran a cake stall to raise money
for the Sight Savers International Charity.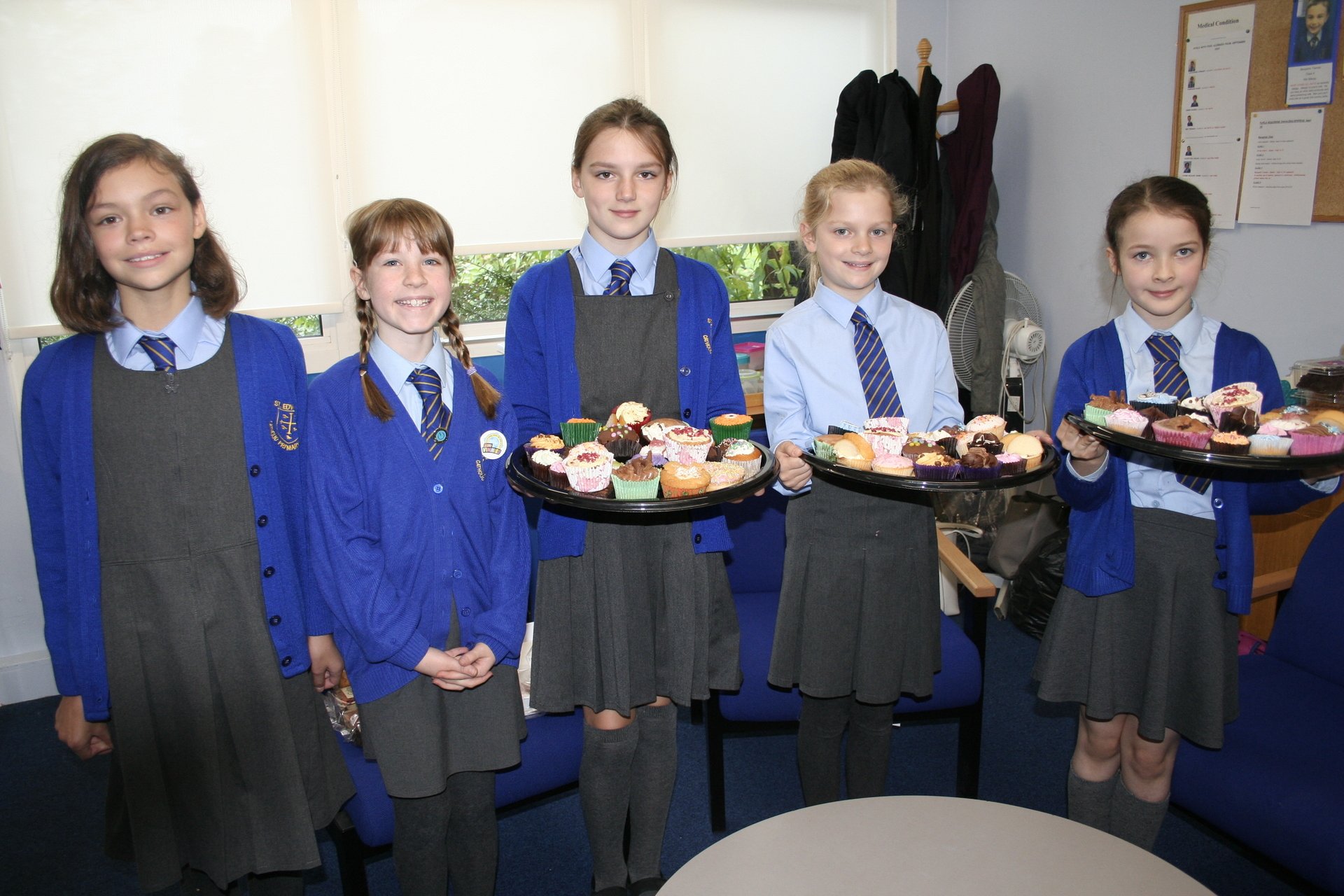 Mini Vinnie Shopping Autumn 2022
Some of our Mini Vinnie group went shopping with money they had raised,
filling a trolley with goods for the Wetherby Food Bank.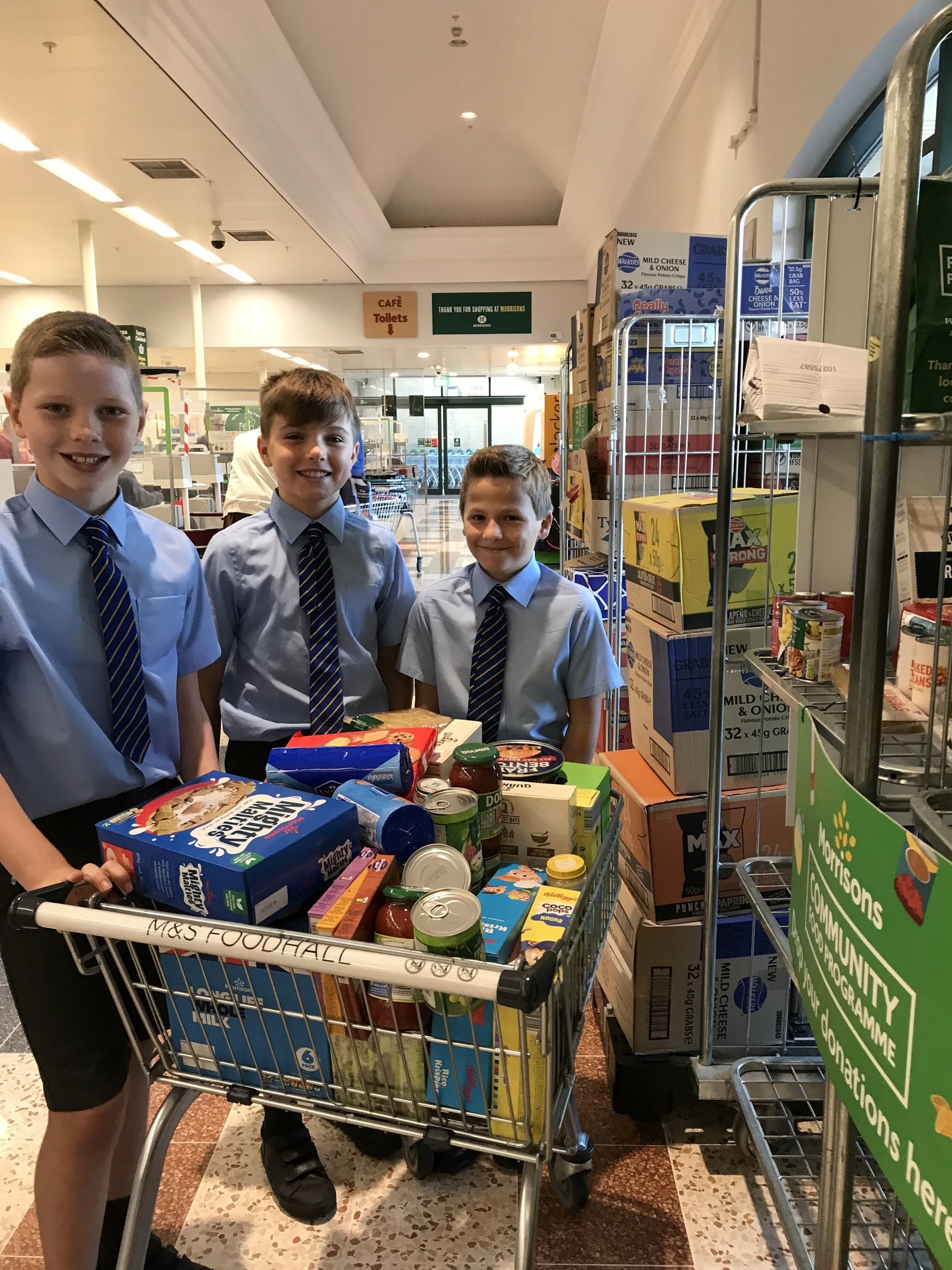 People of Virtue 2022
All members of our school community collect virtue stamps in their passports
during the year. At the end of the year one children is chosen to be our, "person of.....
love, faith, hope, courage, self-control, justice, wisdom or respect." Here are most of our 2022 winners.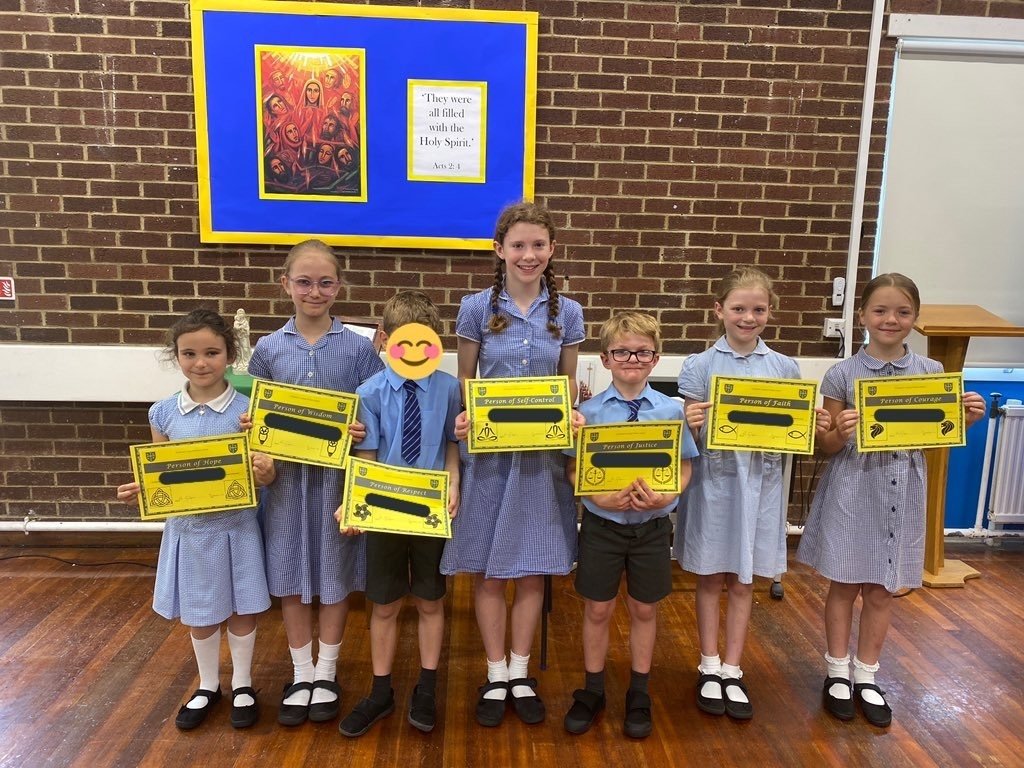 Mini Vinnie Pajama Day Summer 2022
The Mini Vinnies organised and ran a come to school in pajamas day in
order to raise money for Ukraine.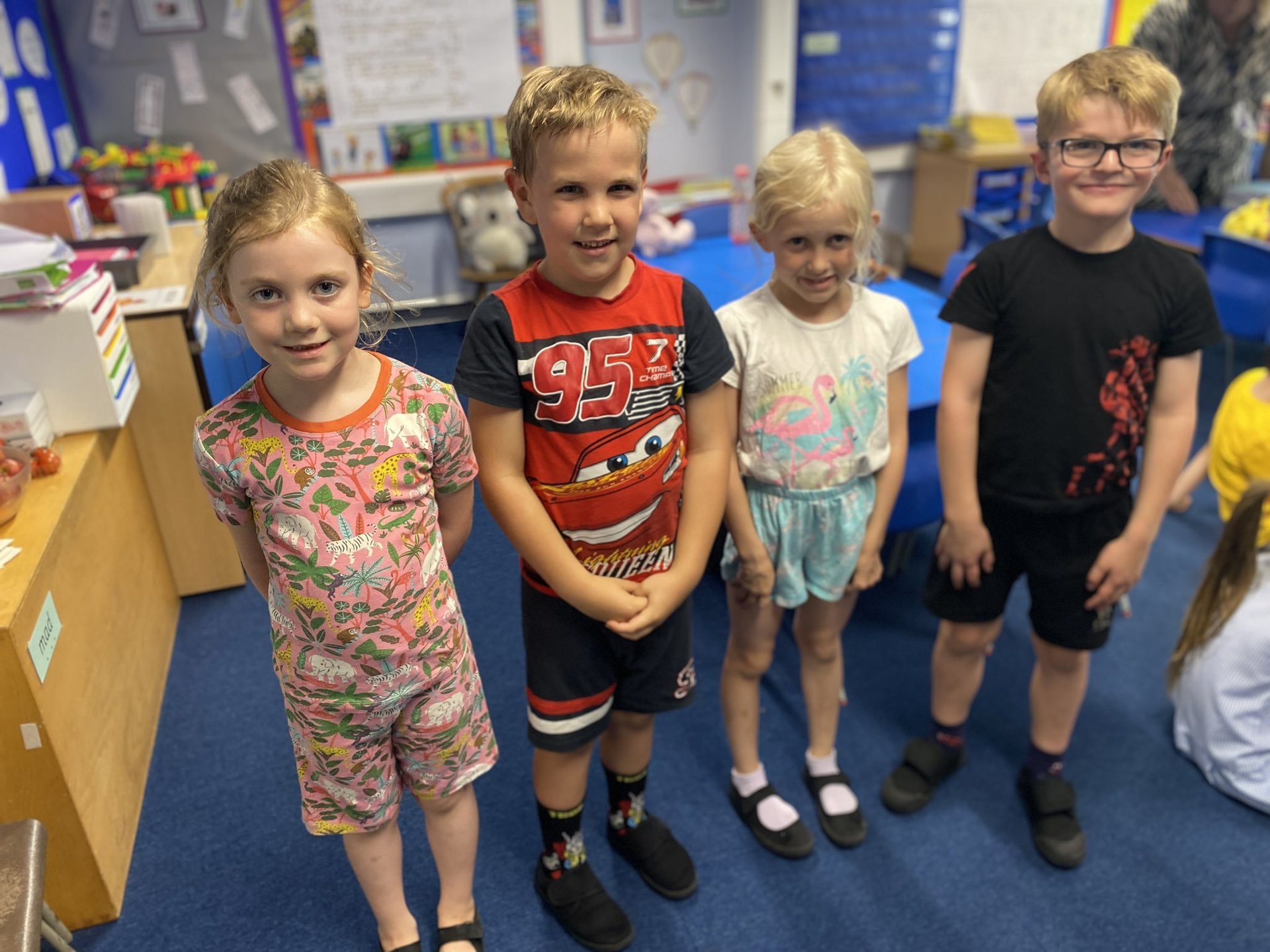 Mini Vinnie Cake Sale Summer 2022
The Mini Vinnies raised more money for charity with a cake sale.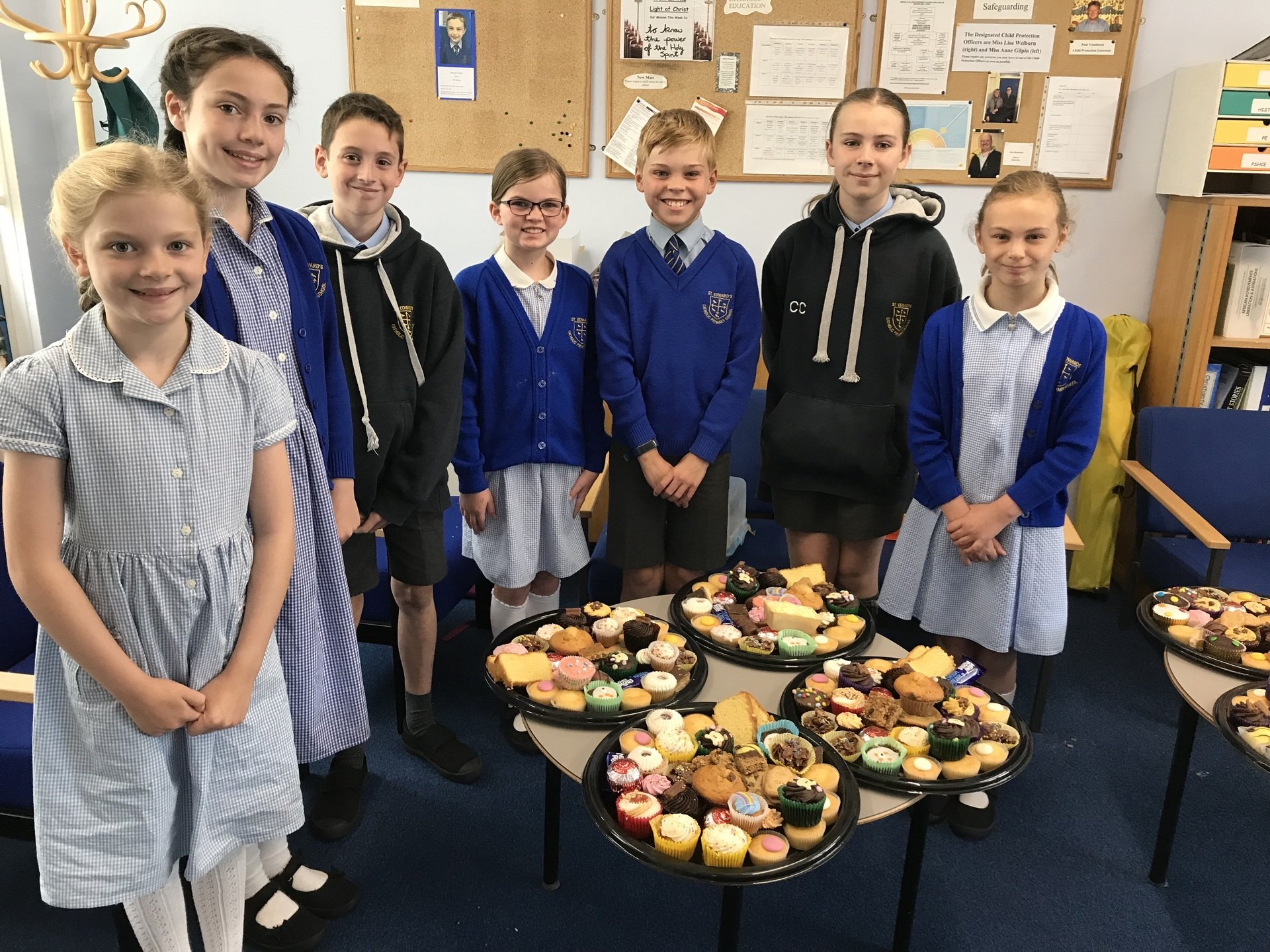 Passion Play 2022
Y6 again re-enacted a beautiful and moving account of the Passion
of Christ.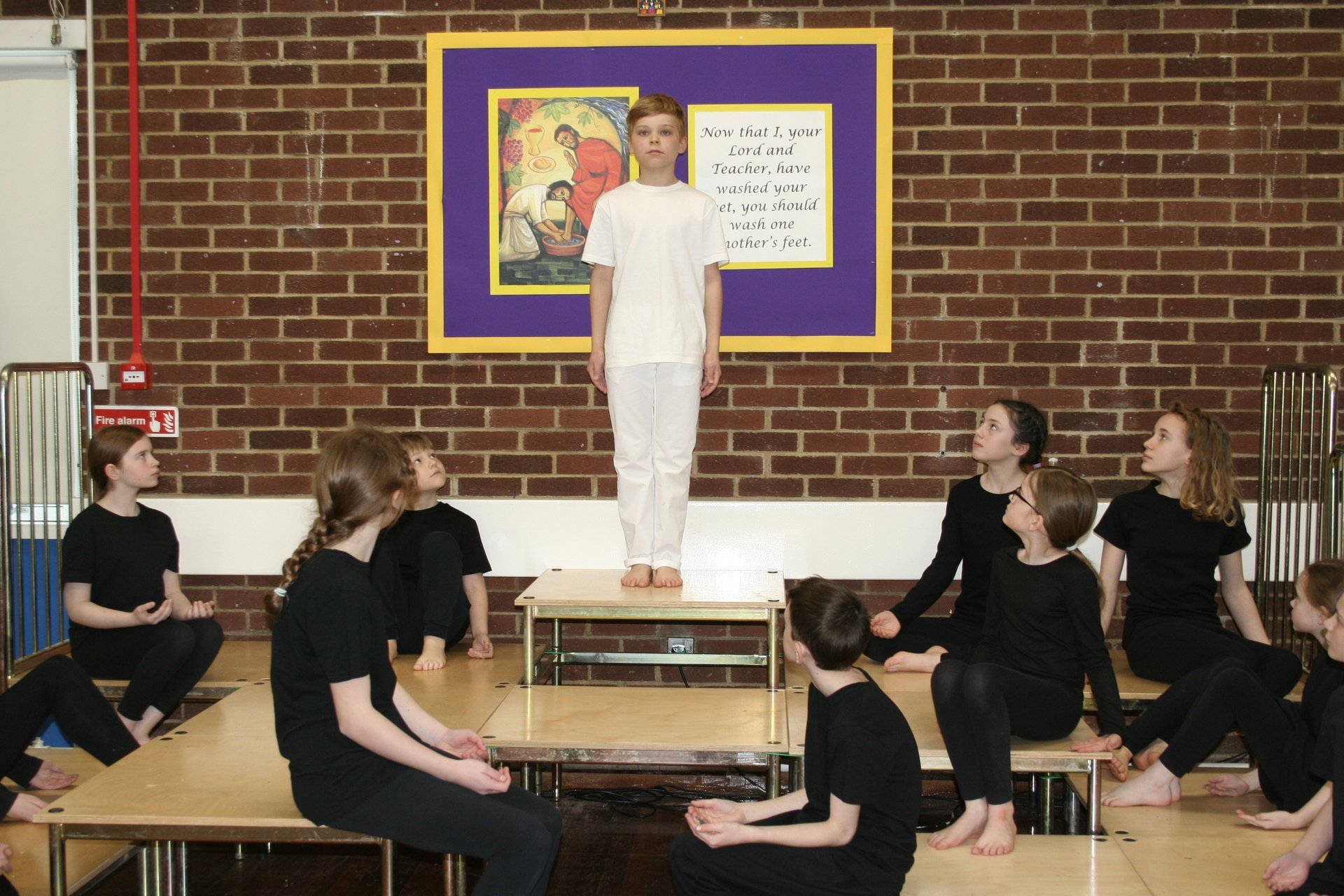 Mini Vinnies Easter Baskets
The Mini Vinnies made, decorated and filled Easter baskets with chocolate.
They then ran a tombola stall to sell them, raising money for the DEC Ukraine Appeal.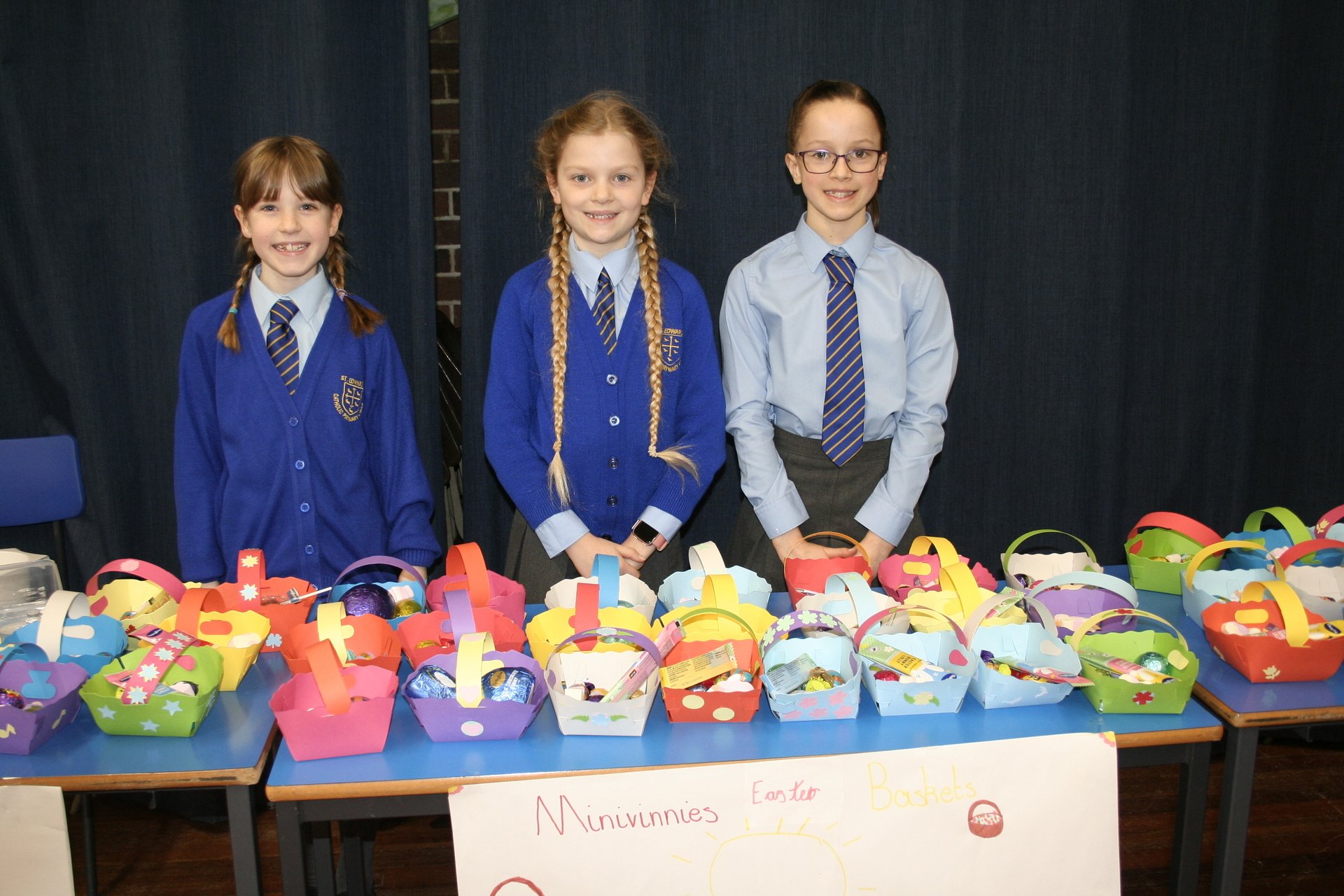 Lenten Activities - Spring 2022
During Lent children came up with their own fundraising stalls in order to
fulfil their duty to Lenten Almsgiving. Lots of money was raised for charity.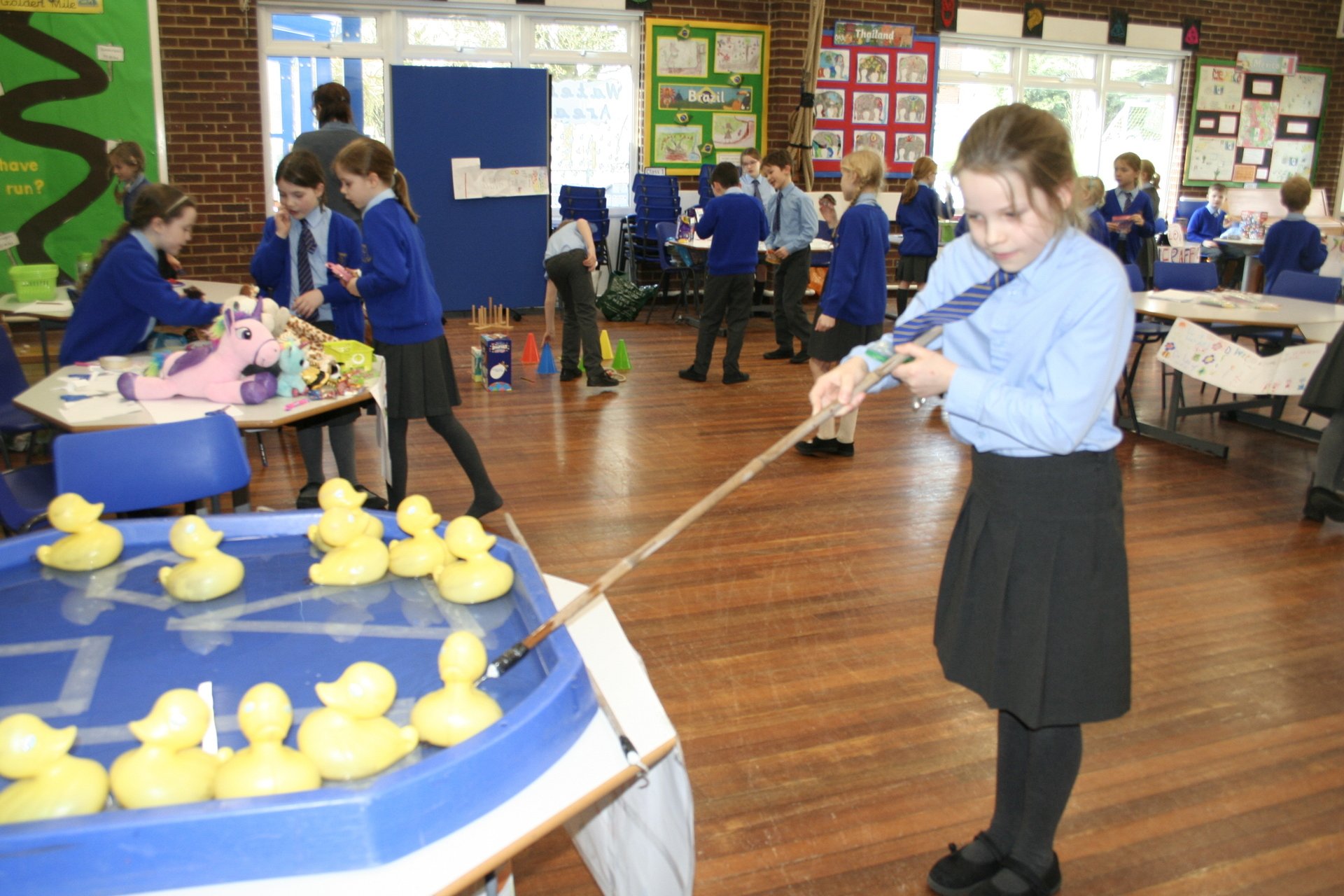 Advent Presentation - December 2021
The whole school took part in our production of, "A Joyful Mystery" for this Advent.
It was a wonderful presentation with beautiful singing.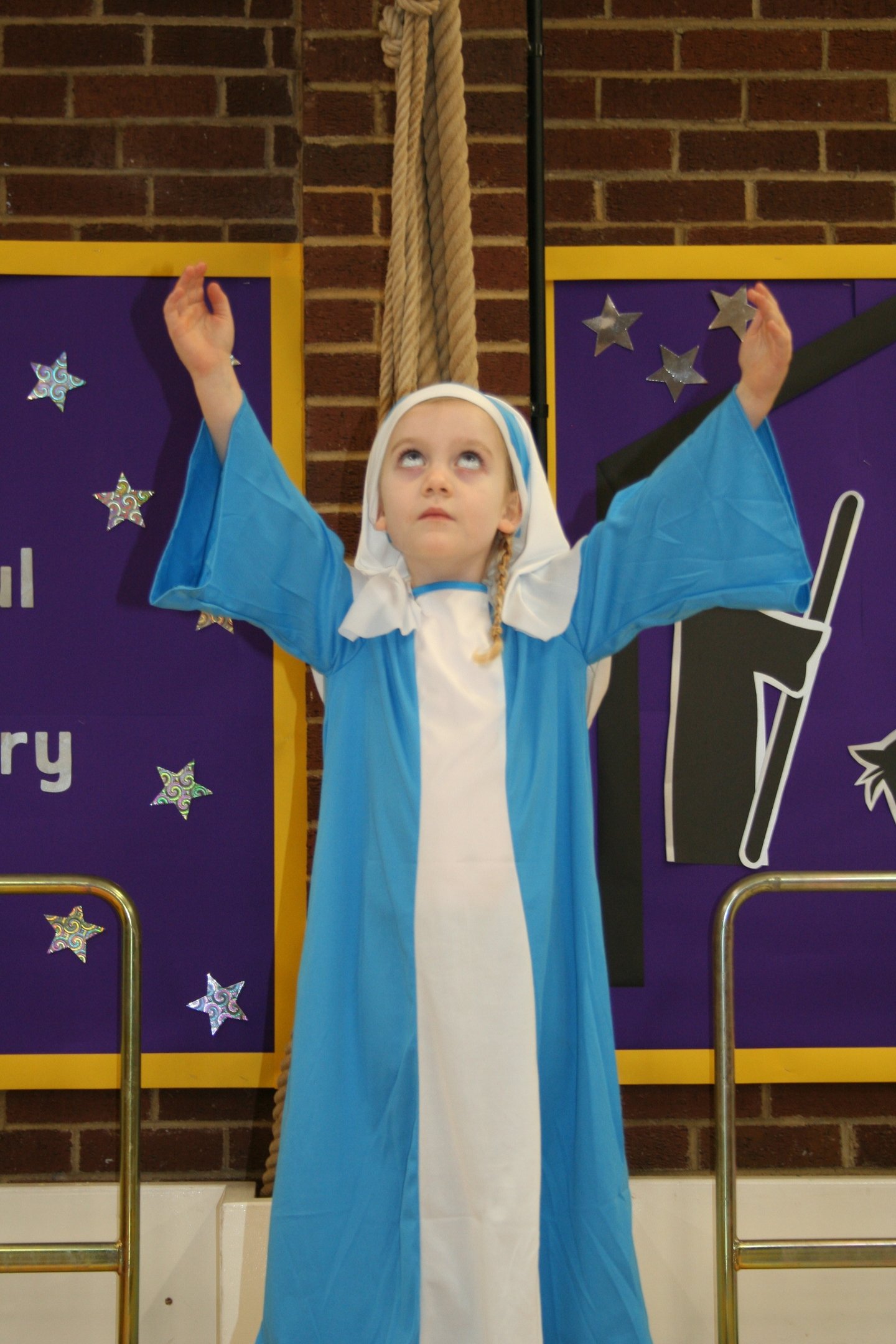 FIA Visit to York - November 2021: The Faith In Action Group visited York in search of our team saints -
they went to the Bar Convent and Margaret Clitherow Shrine before stopping off at the
Chocolate Story cafe on the way to the Minster.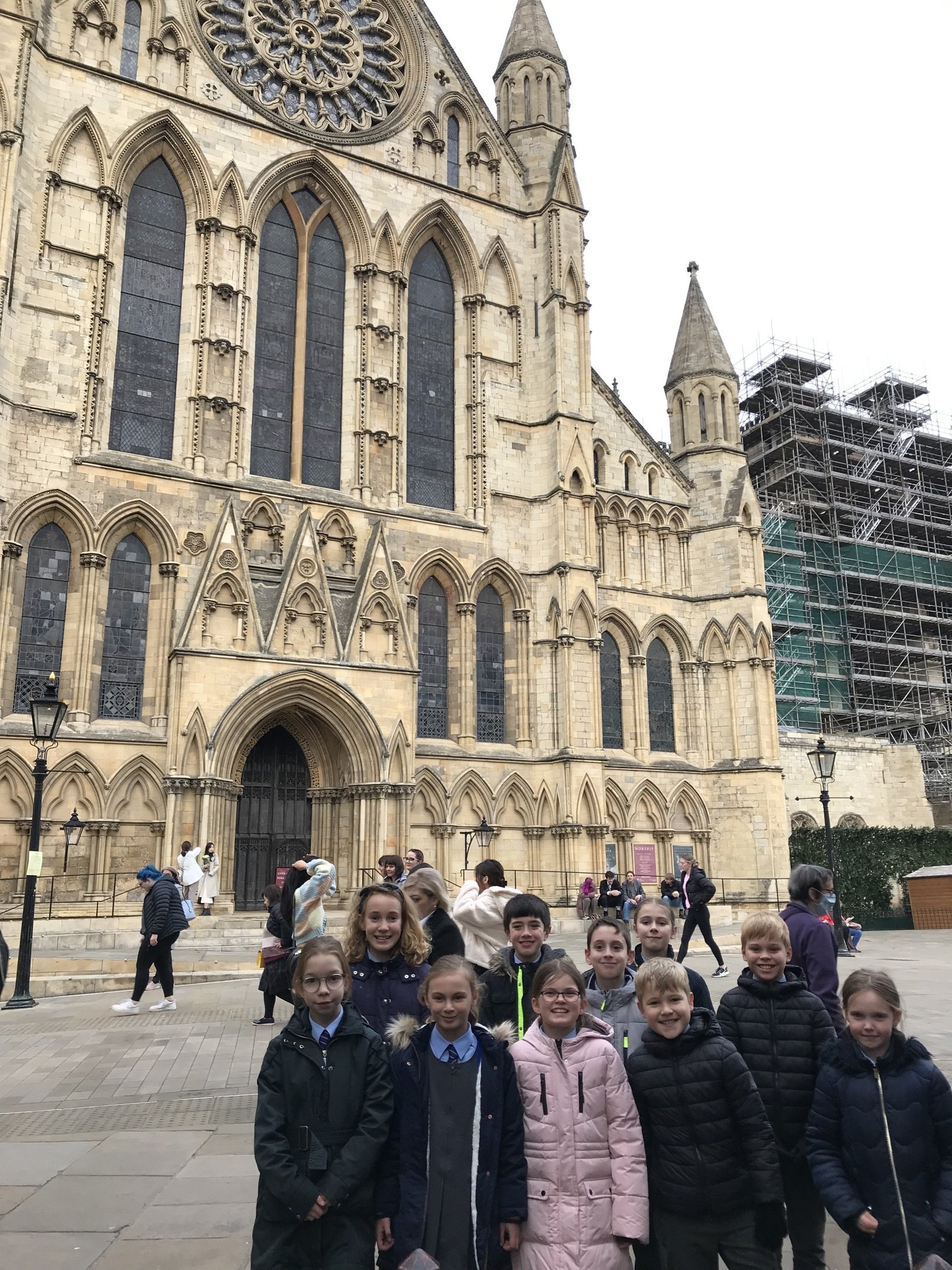 Mini Vinnie Shoebox Appeal - Autumn 2021
The Mini Vinnies promoted the Operation Christmas Child Shoebox Appeal.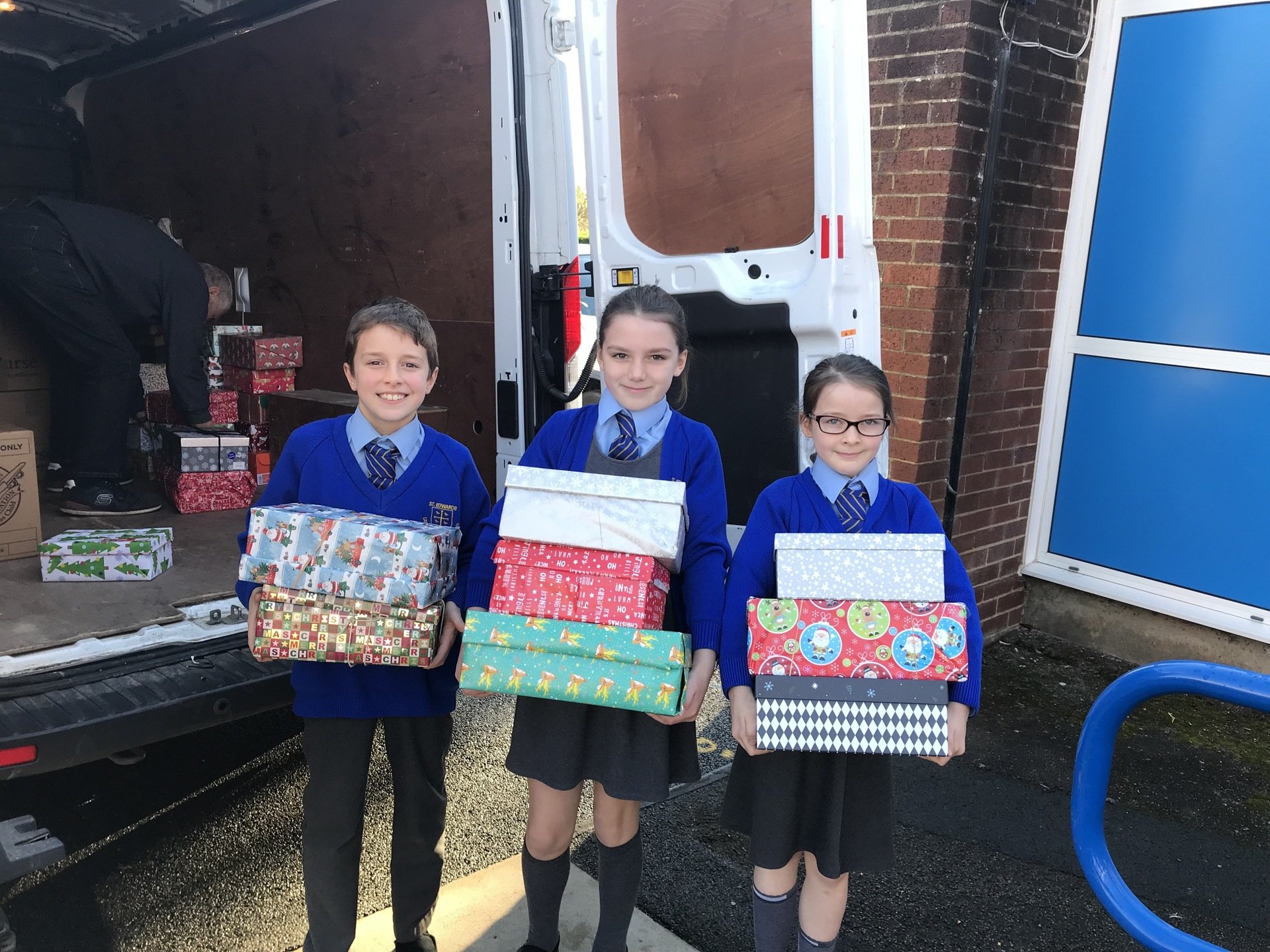 Mini Vinnie Cake Sale - Autumn 2021
Our Mini Vinnies organised a cake sale as their first social action of the new school year.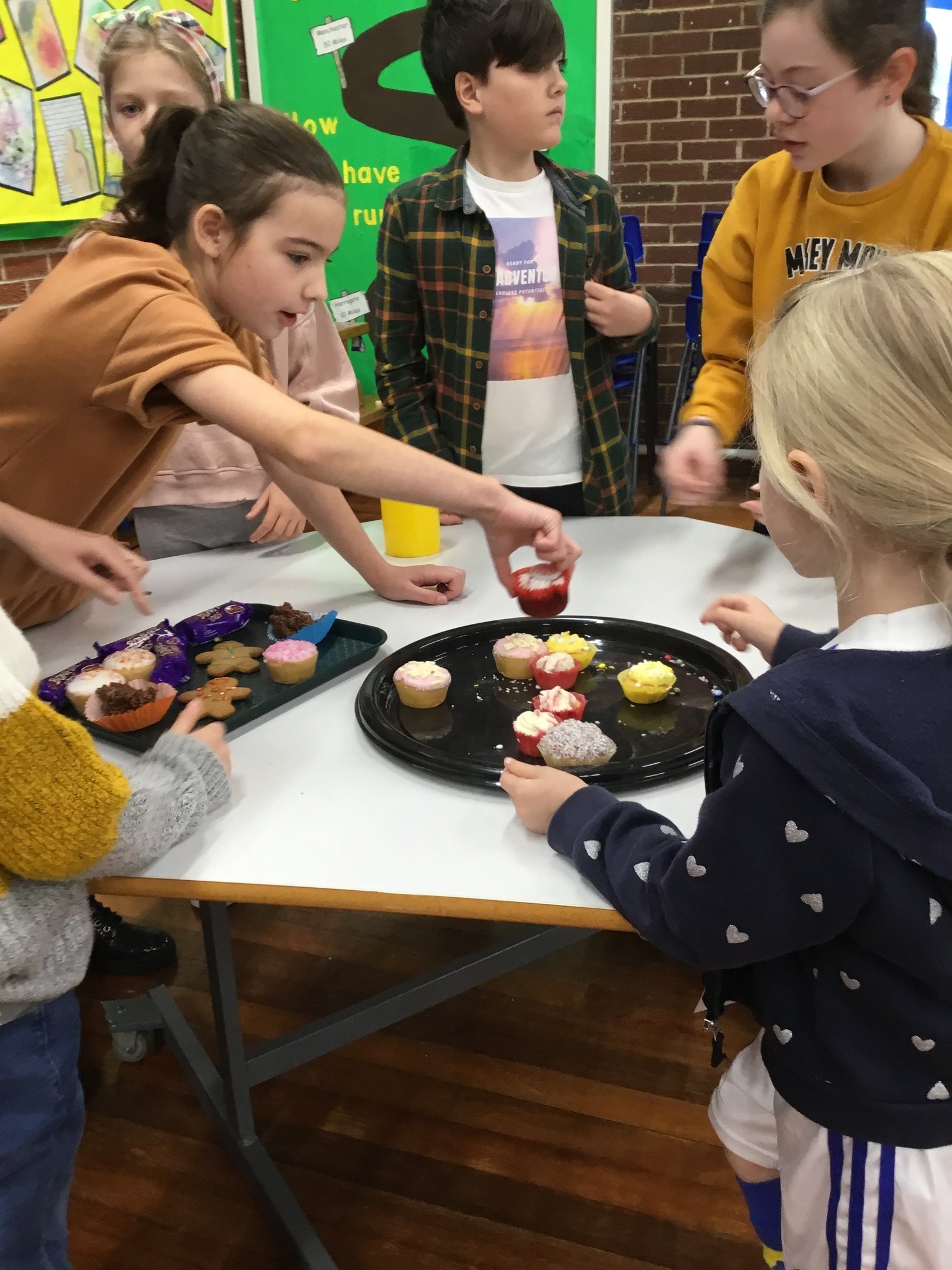 Christmas Goodie Bags - 2020
As we were unable to hold our Senior Parishioners Christmas Party due to Covid,
we made up fabulous Christmas goodie gift bags which our Mini Vinnies helped to deliver.




Easter Flowers
During Lent 2021, Class 4 provided and gave our Easter flowers to passing pedestrians, to light up their day.


Y6 Stations of the Cross - Lent 2021
During Lent, as part of their RE Curriculum, Y6 visited church to learn about and pray the Stations of the Cross.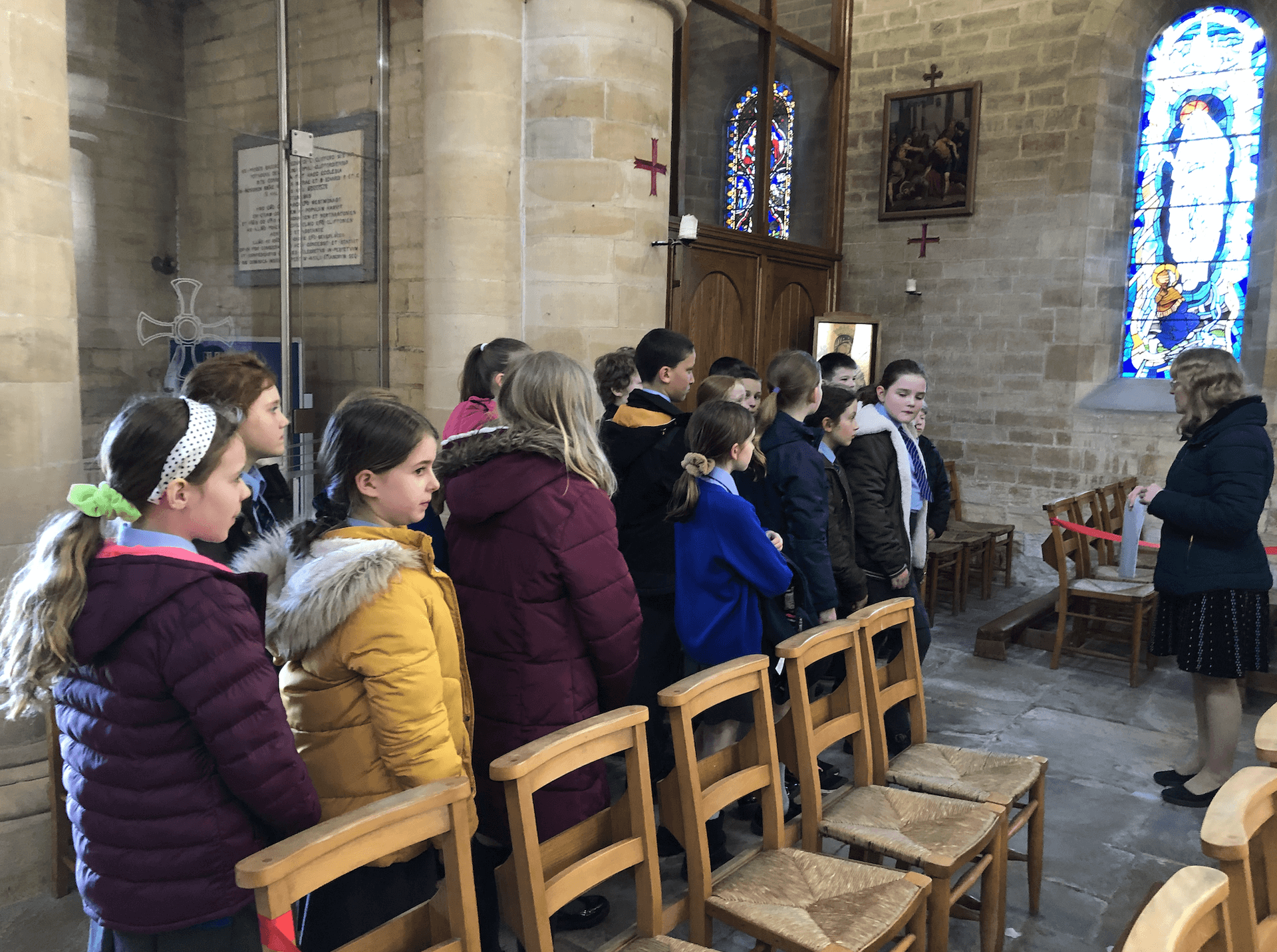 Outstanding RE Inspection 2019: Following our recent RE Inspection (Section 48) we have been graded "outstanding" overall and "outstanding" for each element judged, namely: Catholic Life, Religious Education, and Collective Worship. The school was also judged to be "outstanding" for each aspect of those three elements. We are very happy with this report, which reflects how well we all work together (school, home and parish) to promote the Catholic ethos and teachings. Below you can read and enjoy our glowing report!

Latest RE Inspection Report (2019)

Easter Garden 2020: The children in Key Worker Club made Easter Gardens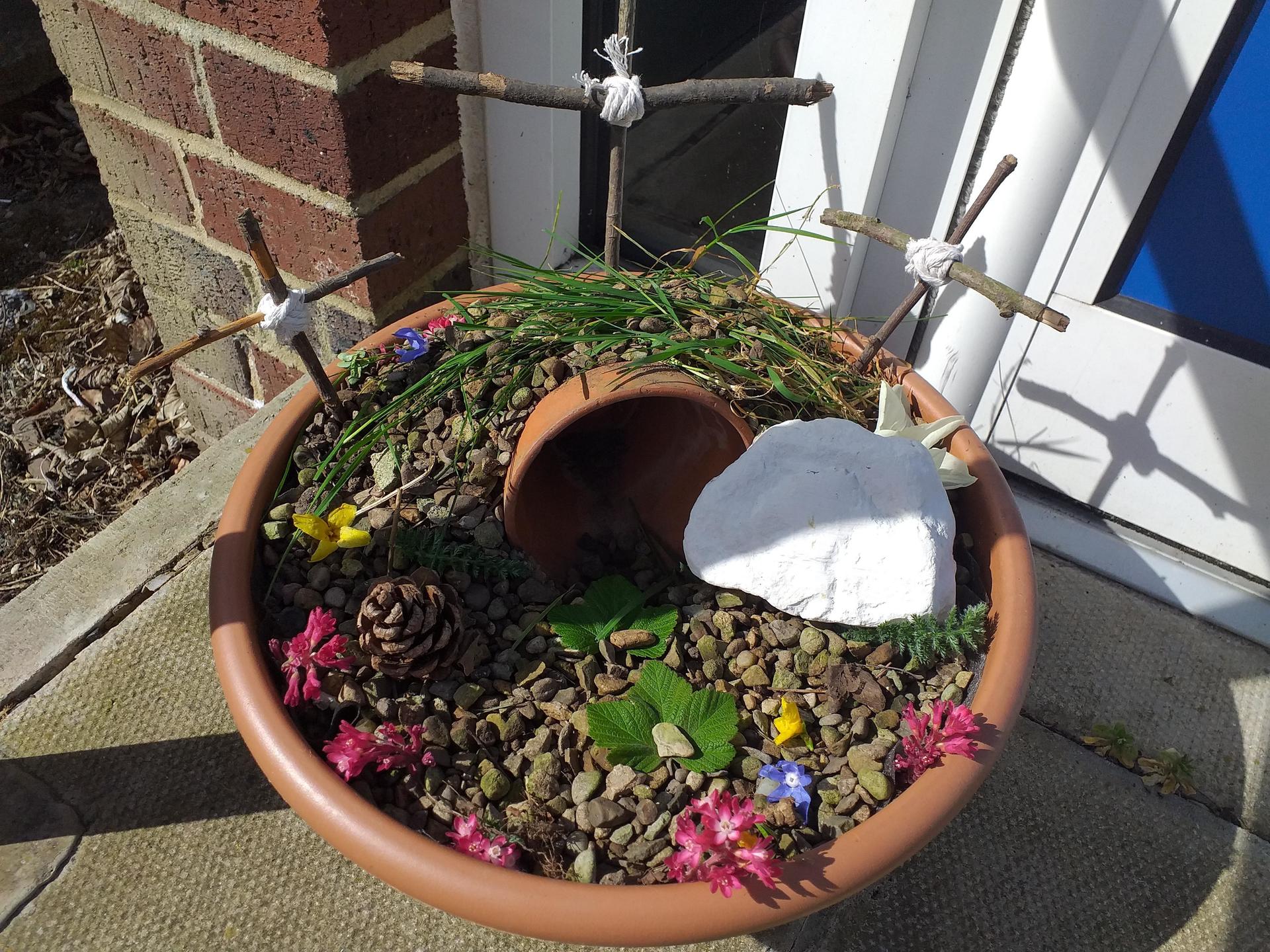 Advent Presentation 2019: The whole school performed beautifully in the, "Sign of the Cross," our Advent Presentation for 2019-20.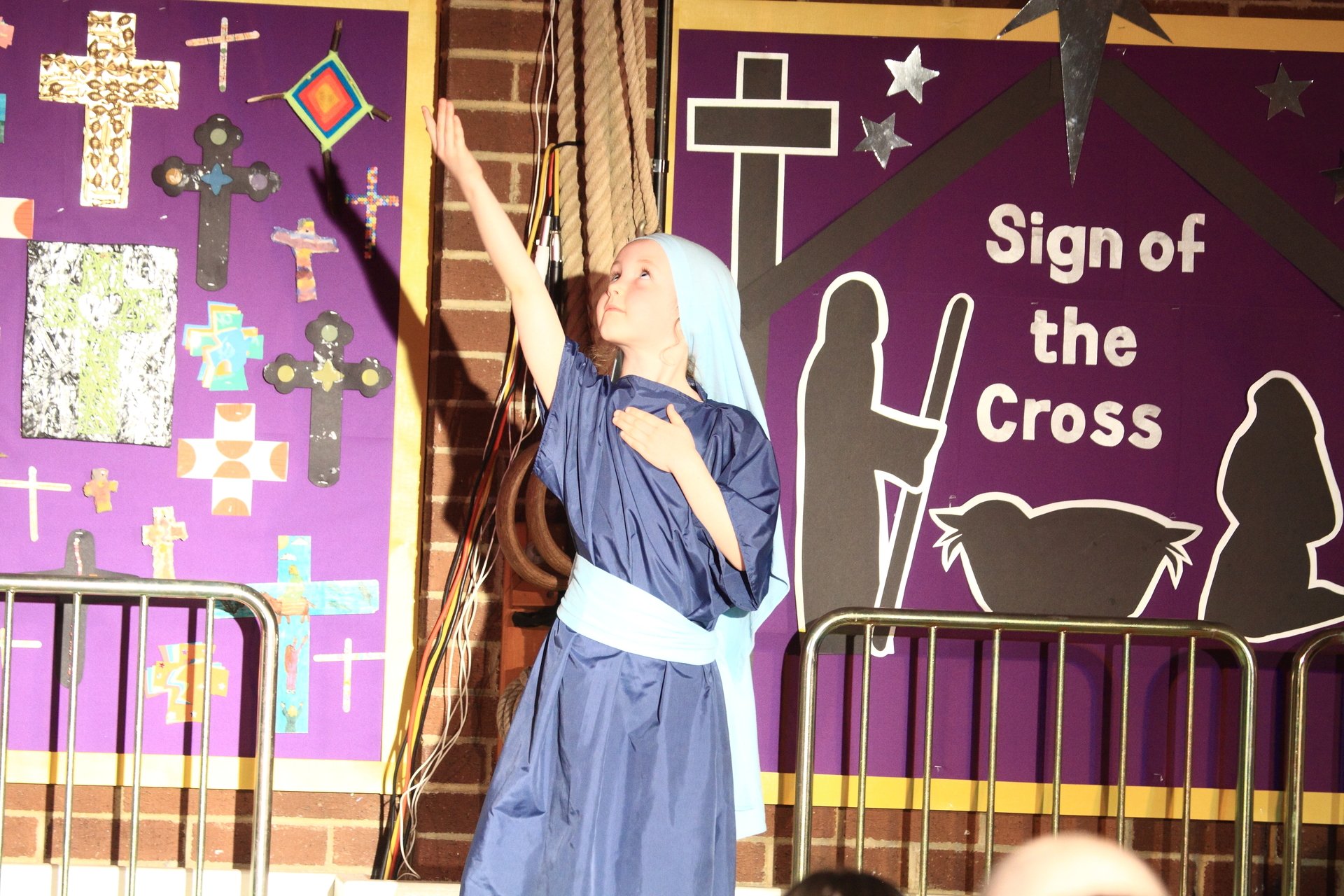 Crosses from around the World: To decorate our hall for Advent 2019, the whole school made crosses of different kinds in may different materials. Some of these were International crosses including from: Australia, Salvador, Mexico, Bangladesh and Pakistan.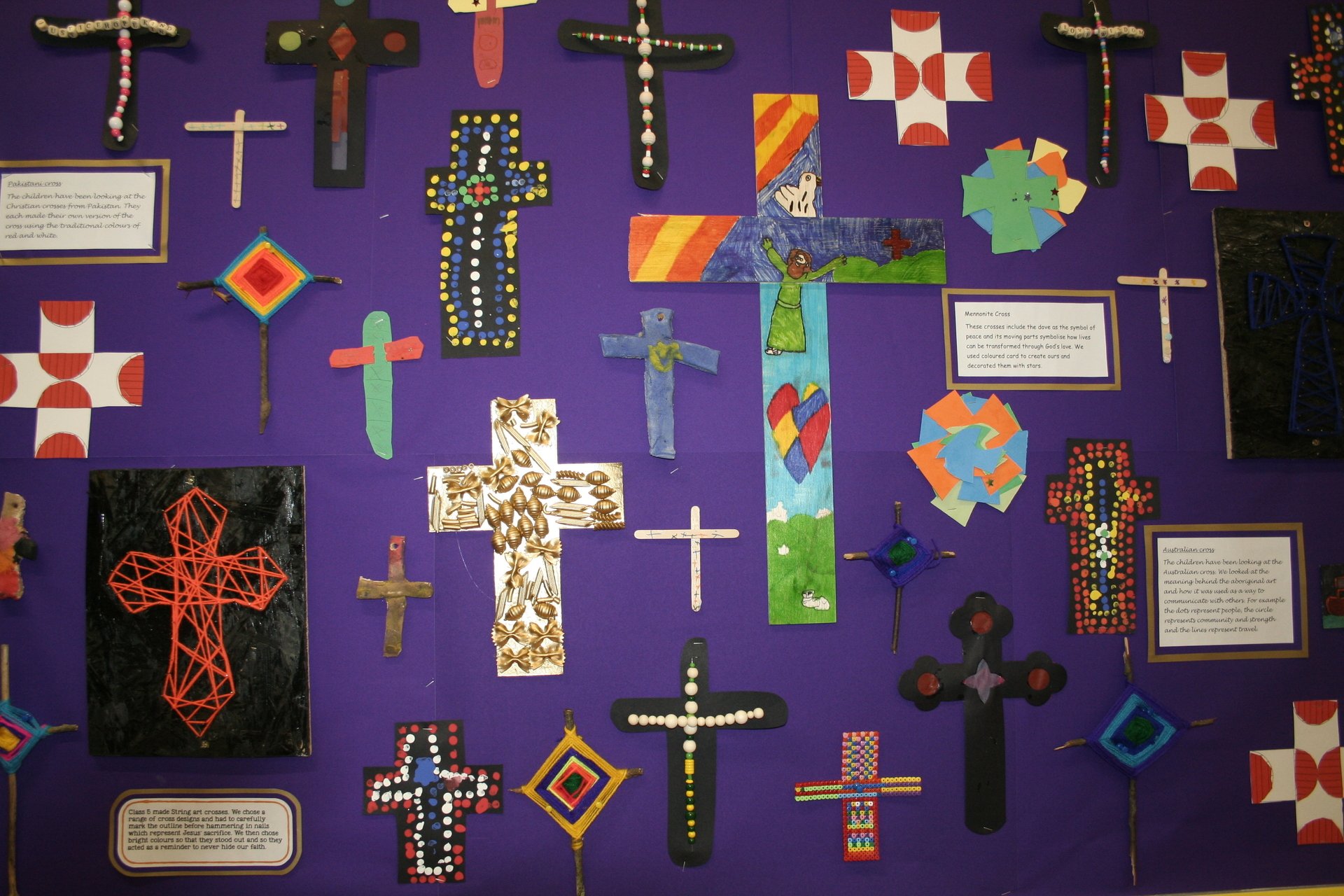 Remembrance 2018: Along with the other schools in Boston Spa we made poppies to decorate outside the village hall and the war memorial. We made a range of different types of poppy and the Mini-Vinnies went down to help display some of them.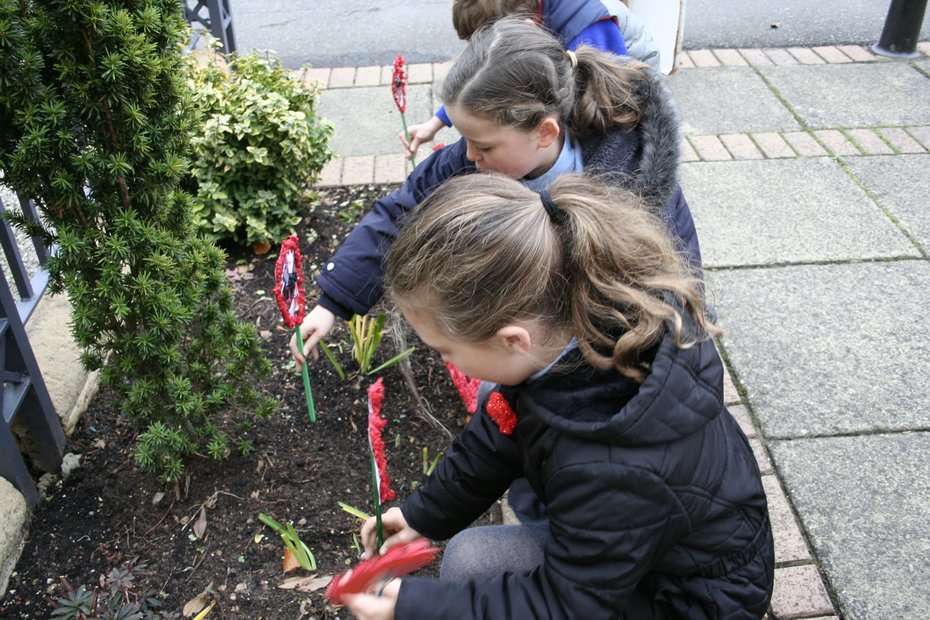 Day of Mercy:
November 2016: On our final "Day of Mercy" the children all ran stalls to raise money for different charities linked to the physical Acts of Mercy. We then released balloons with our promises of how we would continue to be merciful on them.
Card-Making Day:
The school was turned into a card making "factory" near the end of December as all the children spent a fun time making a Christmas card to give to every member/family in our parish. The finished cards were given out at masses before Christmas.
40th Anniversary Parish Party and Celebration Mass:
On Sunday 12th October the parish came together to celebrate the 40th Anniversary of St. Edward's opening on its current site. A huge party was held and enjoyed by many. Then on 13th October, St. Edward's feast day, we held a special celebration mass in school, to which all our parishioners and families were also invited.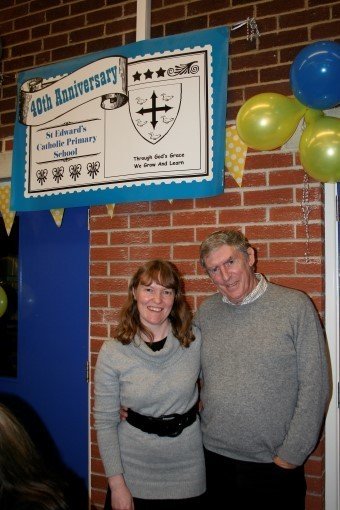 (
Current Head, Miss Gilpin, pictured with former Head, Mr. Carter
)
School rated as "Outstanding" by Diocese
Diocesan inspectors visited the school on the 5th and 6th February 2014, to inspect the Religious Education and the Catholic life of the school. The school was rated as Outstanding for overall effectiveness, as well as for each of: Outcomes for pupils, Provision for Catholic Education, Leadership and Management. Congratulations to everyone involved with the school.