RE/Catholic News
Outstanding RE Inspection 2019: Following our recent RE Inspection (Section 48) we have been graded "outstanding" overall and "outstanding" for each element judged, namely: Catholic Life, Religious Education, and Collective Worship. The school was also judged to be "outstanding" for each aspect of those three elements. We are very happy with this report, which reflects how well we all work together (school, home and parish) to promote the Catholic ethos and teachings. Below you can read and enjoy our glowing report!
RE Report 2019
Virtue Award Winners 2019: A child was chosen for to win our person of ..... for each virtue (eg. Person of Faith) at the end of year. Well done to all of our winners.


Y6 visited St. Anne's Cathedral in Leeds, alongside the Y6 pupils from St. Joseph's, Tadcaster. This both formed part of their RE studies and part of the Faith in Action Award obligations.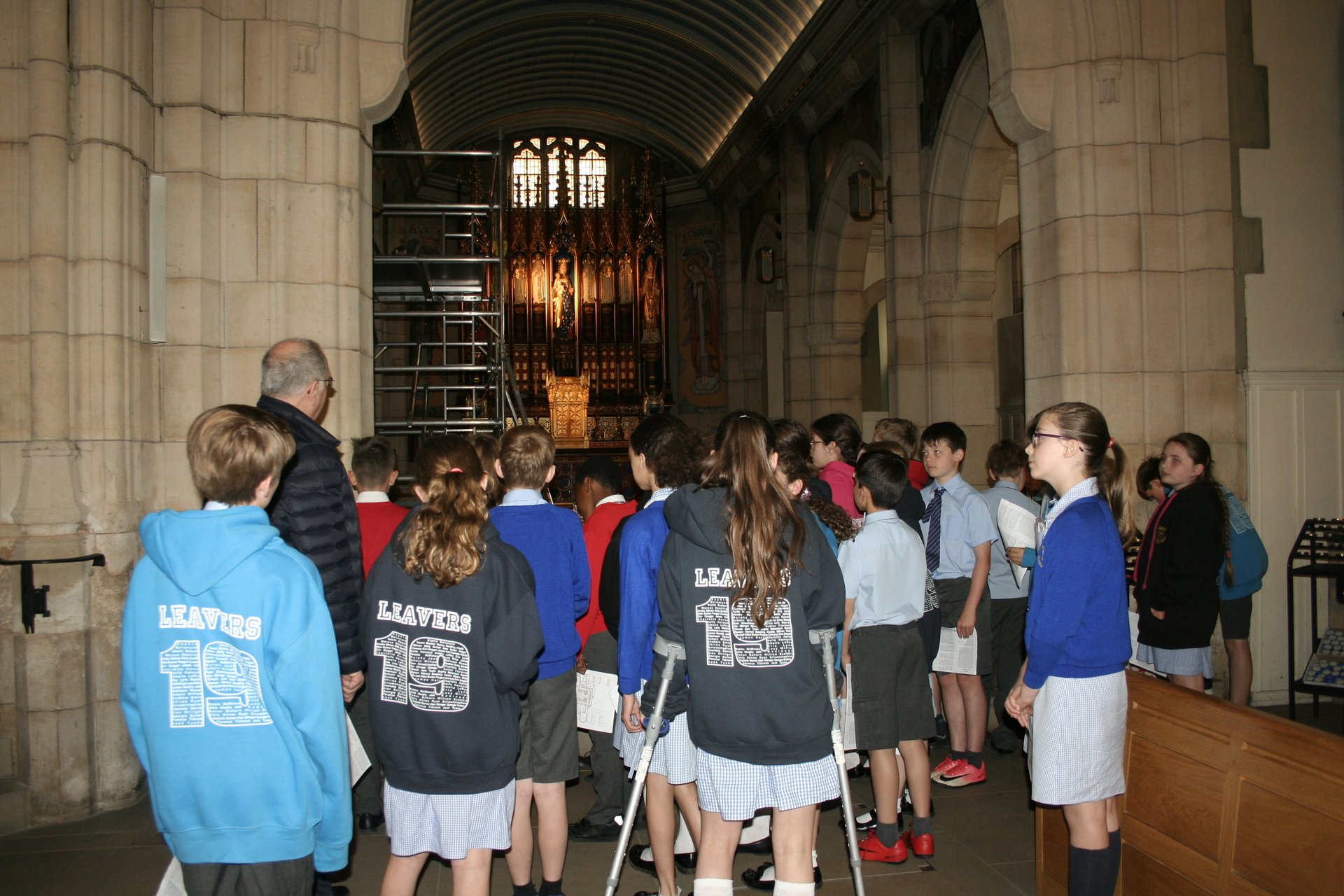 Y6's portrayal of the Passion of Christ was both beautiful and moving. (Easter 2019)


Lenten Activities 2019: Each class ran activities during Lent as part of our Lenten Almsgiving duty. The School Council will decide where the funds raised will go (even our school cook helped out!)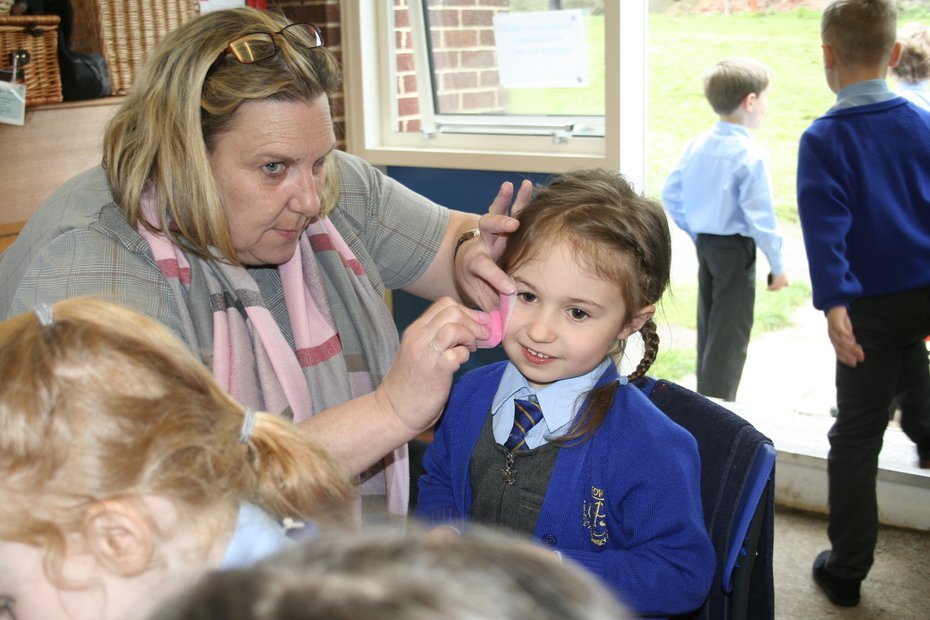 Lent 2019: the Mini Vinnies made Easter baskets and ran a tombola stall with them. They raised over £180 which they decided to divide between Water Aid and the Disasters Emergency Fund>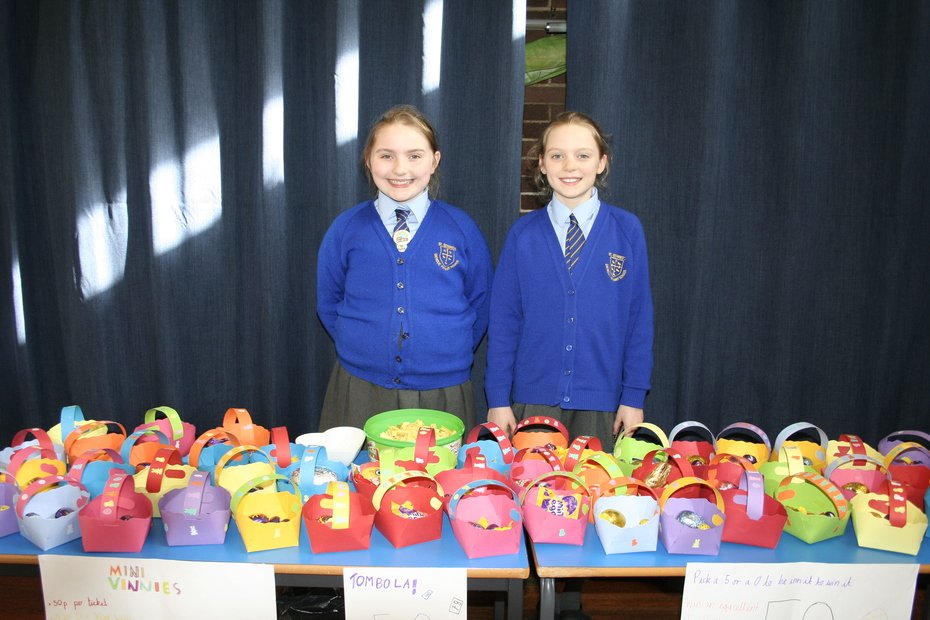 December 2018: This year's Advent Presentation was titled, "Jesus is a Friend of Mine," and was based heavily on Jesus' own words from the Gospels.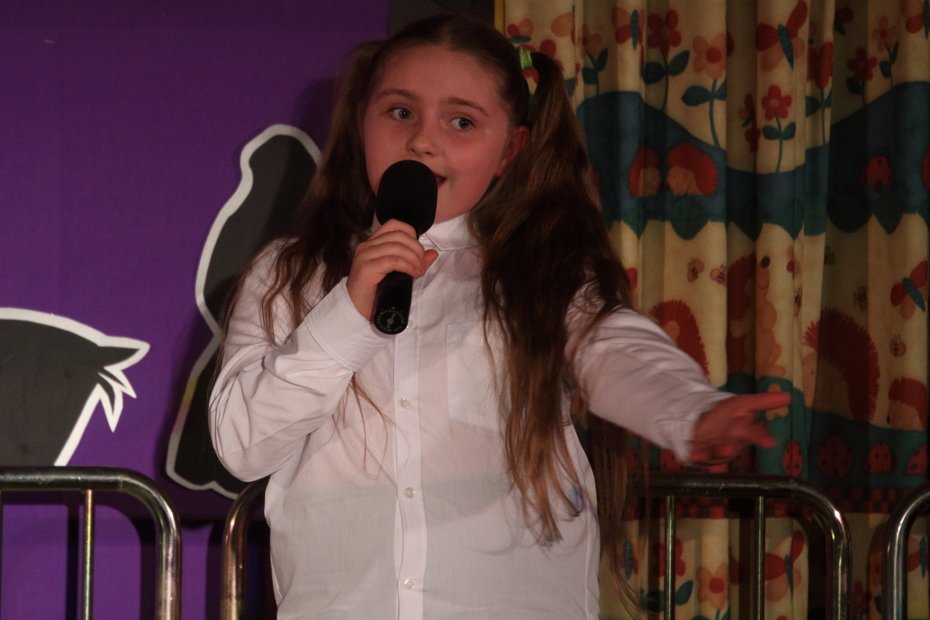 December 2018 - Our Digital Leaders and Mini Vinnies worked together to find and choose symbols for each of the Virtues.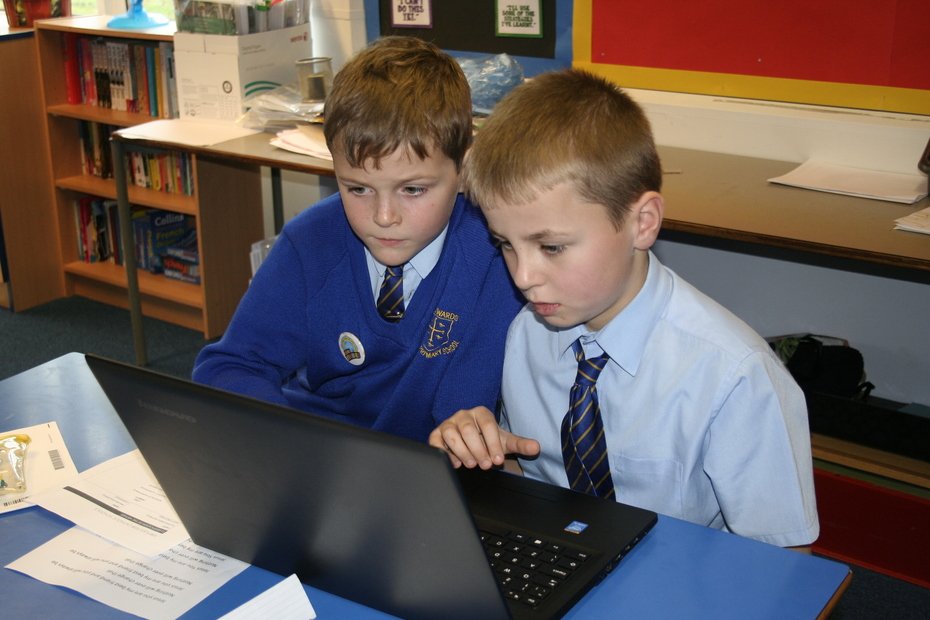 Leading Whole School Prayers: Some of our KS2 pupils continue to lead whole school collective worship, planning and preparing it themselves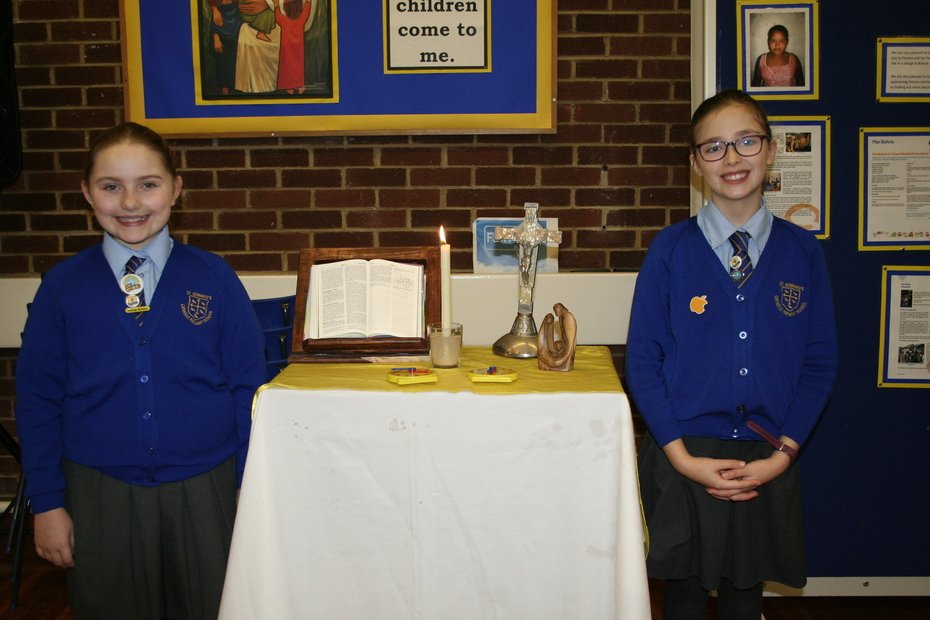 Day of Mercy: In November 2018, we held a themed Day of Mercy, to re-highlight this theme. Pupils did lots of cross-curricular, creative work around this theme during the day.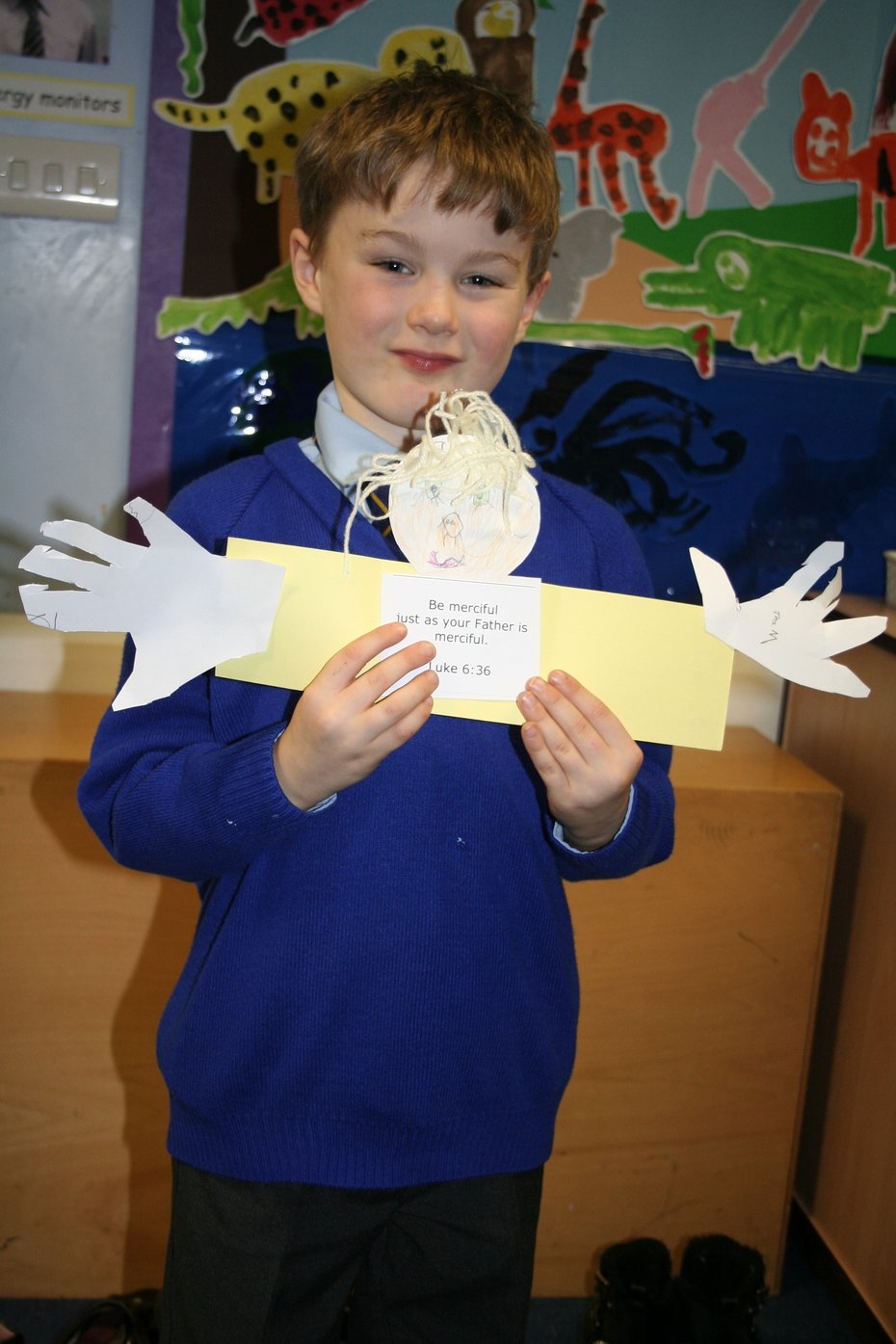 Remembrance 2018: Along with the other schools in Boston Spa we made poppies to decorate outside the village hall and the war memorial. We made a range of different types of poppy and the Mini-Vinnies went down to help display some of them.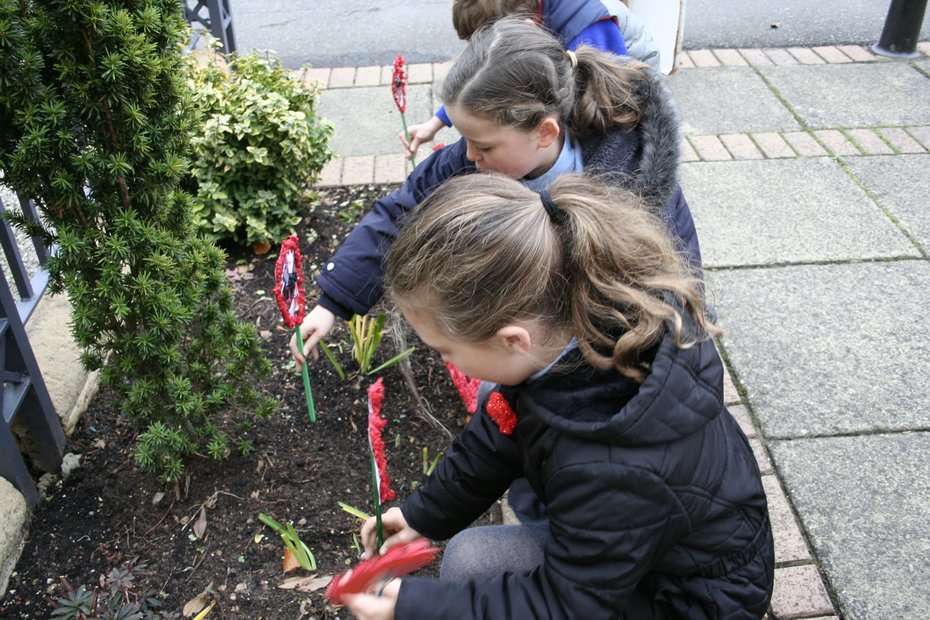 The Big Sing: Our Y6 pupils joined other primary schools at the Big Sing Liturgy Thing, at St. Teresa's. They had great fun singing and praising God, before celebrating a liturgy together.
Mini Vinnie Mass:
Our group of Y5/6 Mini Vinnies were commissioned or re-commissioned by the Bishop in a special mass at St. Anne's Cathredral for all the Mini-Vinnies of the Diocese. Two of our pupils served mass for the Bishop while two also acted as welcomers. It was a beautiful celebration.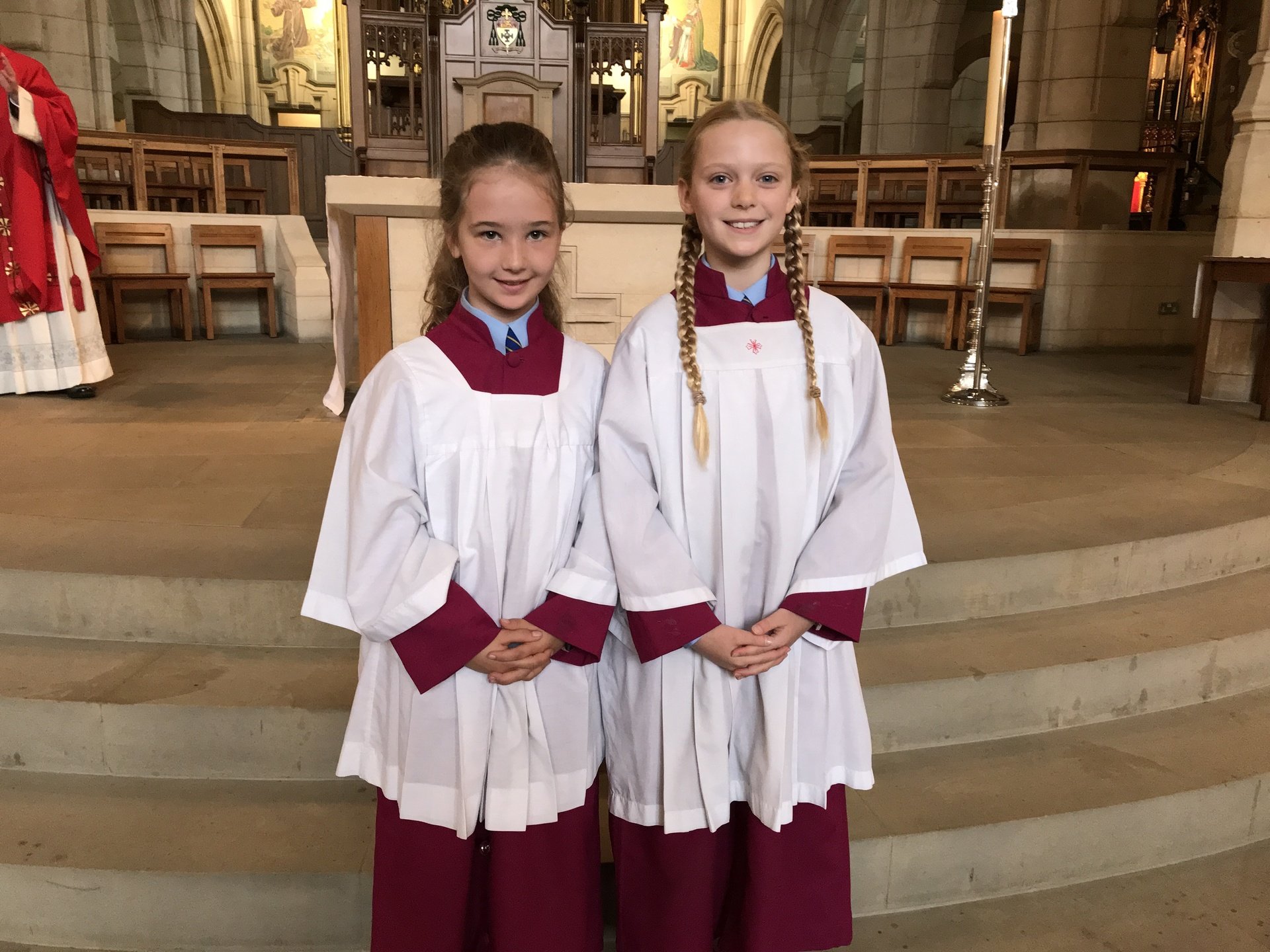 Faith in Action Awards:
During the school year 2017-18, we piloted the Diocesan scheme, "Faith in Action" for them. It is a great testament to the children's commitment to living out their faith that 14 of the 19 pupils eligible to take part volunteered to do so. In June some of the group were able to attend a special celebration mass lead by Bishop Marcus, and receive their awards directly from him. During the year they gained credits for actions they completed under 4 headings: Parish Participation, Prayer, Pilgrimage and Procession, and Social Action. Congratulations to all of them.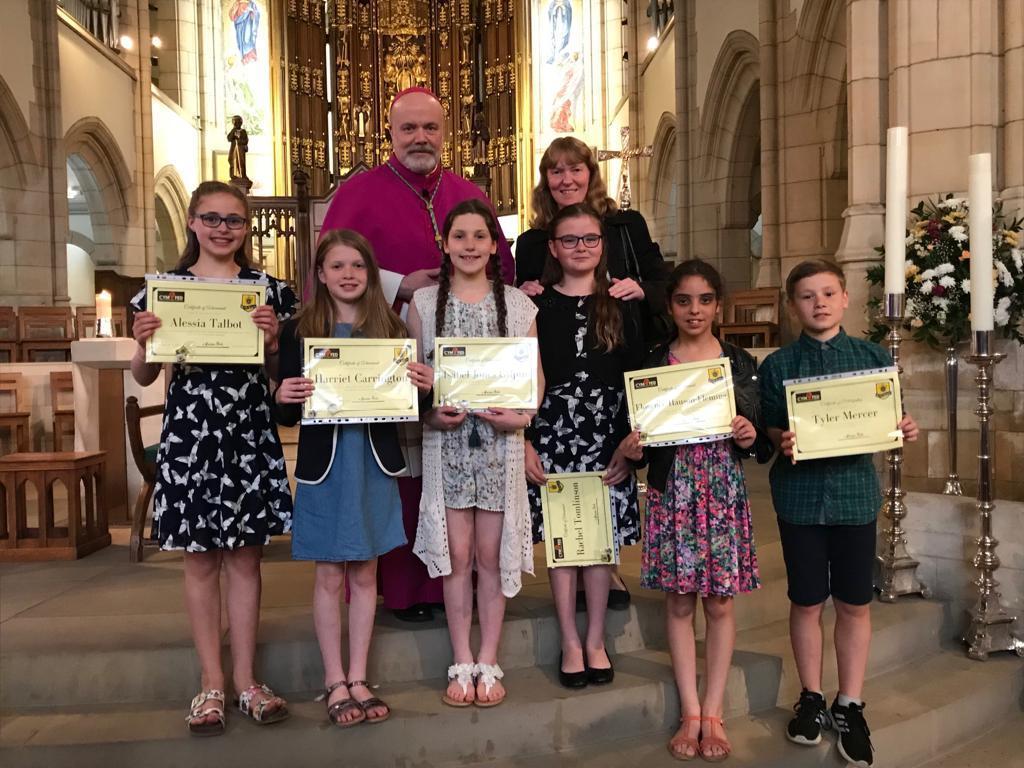 Passion Play 2018:
Our Y6 pupils once again performed a beautiful and moving account of the Passion Of Christ, which was enjoyed by pupils, parents and parishioners.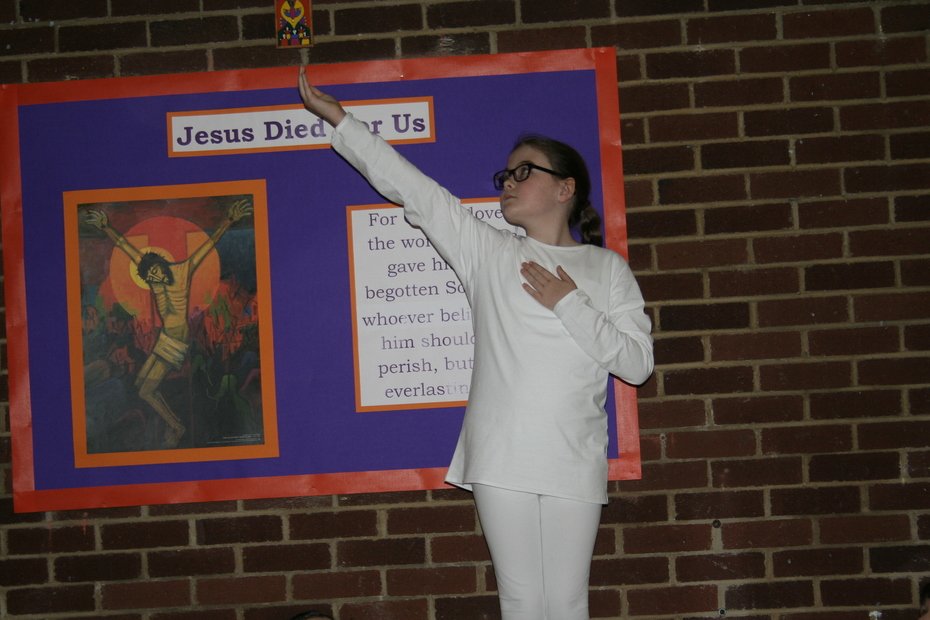 Advent 2017:
This year's Advent Presentation, entitled, "Son of Jesse," followed a carpenter making symbols for a Jesse tree. Through the making of each symbol, the stories of Jesus' ancestors were told, leading up to and including the Nativity story itself.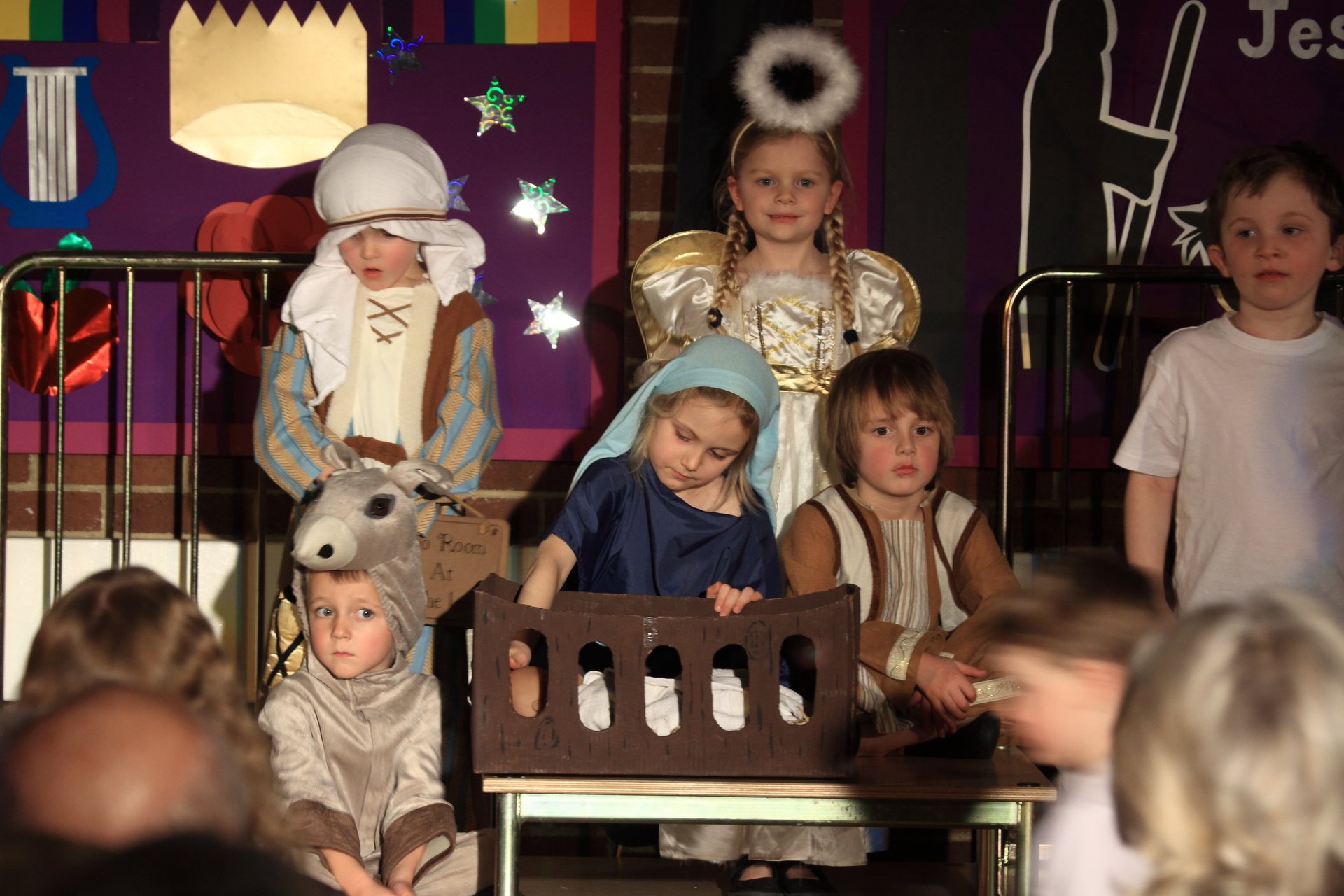 Ripon Visit:
In October 2017, our Y6 Mini Vinnies attended the Diocesan Pilgrimage to Ripon Cathedral. They arrived early so that they could explore and learn about the cathedral, before joining many other Catholic schools from across the Diocese, in the celebration of mass.
Passion Play 2017:
Our Y6 pupils gave another moving and beautiful presentation of the Passion of Christ to wrap up our Easter celebrations in school.
Advent Presentation - December 2016:
This year's Advent Presentation, entitled "The Most Joyful Mystery" was based on the 5 Joyful Mysteries of the Rosary. The whole school took part in the production, which also contained a look at the legacy of the Year of Mercy, including, the Mini-Vinnie Christmas present appeal and prayers reflecting the acts of mercy.
Days of Mercy:
During this year, we have held three separate themed "Days of Mercy." On these days pupils have done lots of creative and cross-curricular work on the theme of mercy. Here they are shown making up their own liturgical dance to a mercy hymn on the first themed day, and creating crosses out of nails and wool on the last themed day.
Day of Mercy:
November 2016: On our final "Day of Mercy" the children all ran stalls to raise money for different charities linked to the physical Acts of Mercy. We then released balloons with our promises of how we would continue to be merciful on them.
St. Edward's Mini Vinnies:
As part of our work for the Year of Mercy we have set up a children's group of the St. Vincent de Paul society. Thirty-five of our year 4, 5 and 6 pupils were commissioned in a special ceremony, attended by two members of our parish SVP group. Our Mini Vinnies will be planning and carrying out many "acts of mercy" for this important Jubilee.



Year of Mercy: Christmas Jumper Day
This year school took part in the Christmas Jumper day as on of our events for the Jubilee Year of Mercy. This is an act of mercy because it raised money for charities that help to feed the hungry, give drink to the thirsty and heal the sick (namely: MacMillan Cancer Support, Make a Wish and Save the Children). We raised £118 on the day for these worthy causes.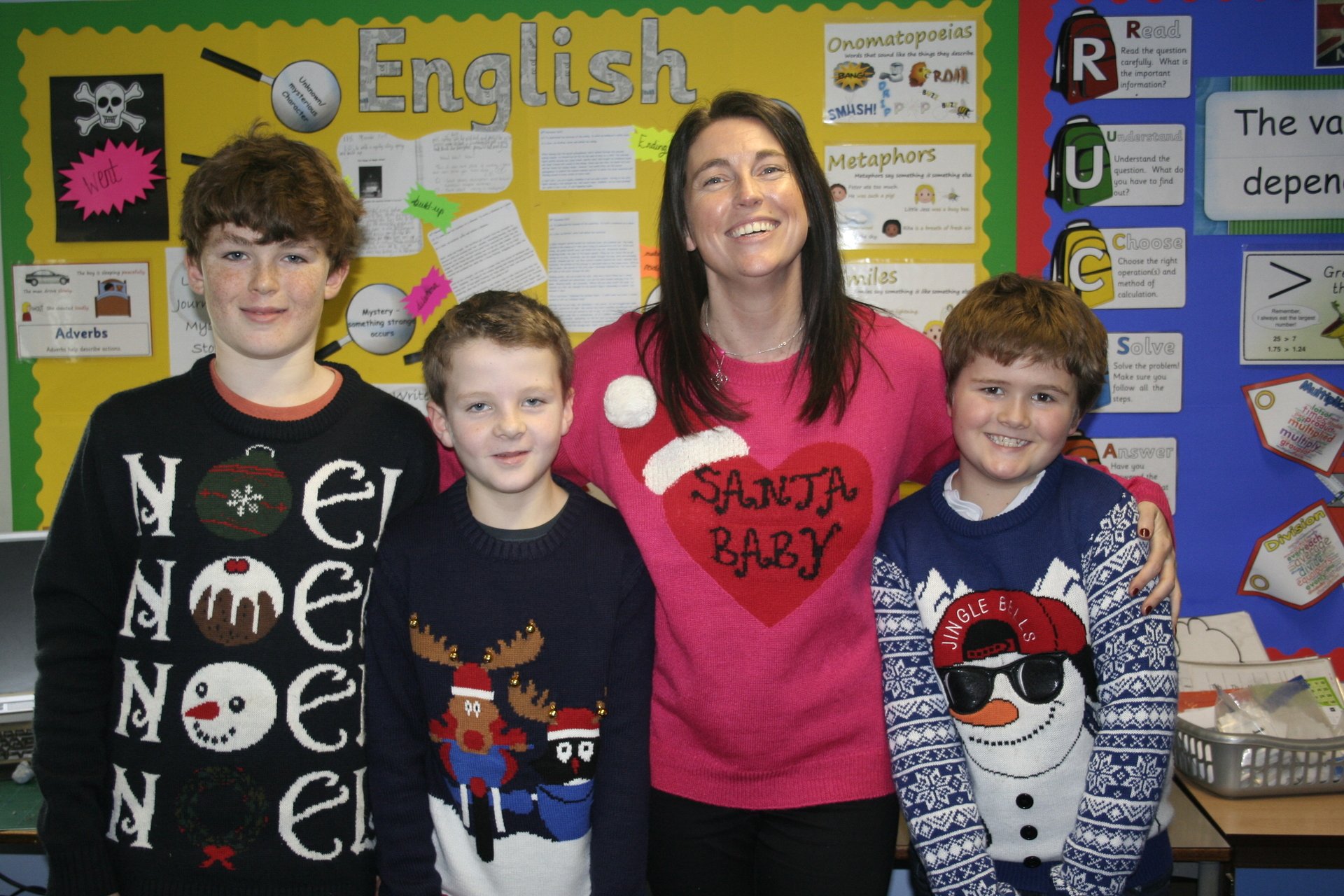 Card-Making Day:
The school was turned into a card making "factory" near the end of December as all the children spent a fun time making a Christmas card to give to every member/family in our parish. The finished cards were given out at masses before Christmas.
40th Anniversary Parish Party and Celebration Mass:
On Sunday 12th October the parish came together to celebrate the 40th Anniversary of St. Edward's opening on its current site. A huge party was held and enjoyed by many. Then on 13th October, St. Edward's feast day, we held a special celebration mass in school, to which all our parishioners and families were also invited.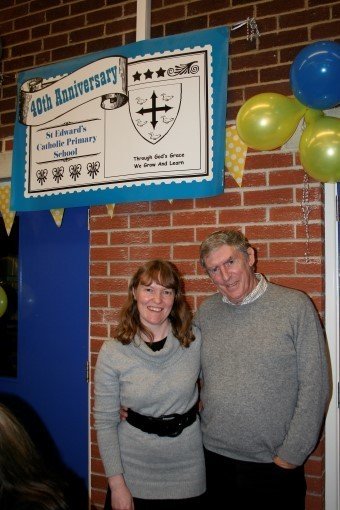 (
Current Head, Miss Gilpin, pictured with former Head, Mr. Carter
)
School rated as "Outstanding" by Diocese
Diocesan inspectors visited the school on the 5th and 6th February 2014, to inspect the Religious Education and the Catholic life of the school. The school was rated as Outstanding for overall effectiveness, as well as for each of: Outcomes for pupils, Provision for Catholic Education, Leadership and Management. Congratulations to everyone involved with the school.